Ultra Street Fighter II is coming to Nintendo Switch!
Hey World Warriors!
As announced on the Nintendo Switch Presentation 2017 in Tokyo, Ultra Street Fighter II: The Final Challengers, is coming to the Nintendo Switch!
Capcom and Nintendo have a long history together, going all the way back to Street Fighter II on the Super Nintendo Entertainment System in 1991, so we are happy to bring the newest edition of Street Fighter II to the Nintendo Switch.
For the first time in nearly 20 years, since Super Street Fighter II, two new characters join the fight; Evil Ryu and Violent Ken. This version of Ryu has succumbed to the Satsui no Hado and is now obsessed with fighting in order to prove he is the strongest. His former honorable self has been purged, allowing him to enjoy absolute power and embrace an unquenchable bloodthirst for battle.
Violent Ken is the result of M. Bison kidnapping and brainwashing Ken, enhancing his abilities with Psycho Power and twisting his brotherly rivalry with Ryu into hatred. Violent Ken is more ruthless, aggressive, and fearless with moves that feature purple flames instead of his signature fire.
Choose between classic pixel-art graphics for a retro nostalgia trip, or enjoy HD graphics created by UDON Entertainment.
Utilizing the system's unique Joy-Con controllers, players can challenge each other in Arcade Mode, or team-up to both fight against the CPU at the same time.
Nintendo Switch TV, Tabletop, and Handheld modes allow you to play Ultra Street Fighter II at home or on-the-go with brand new single-player and multiplayer modes. More information and details on these modes, along with confirmed pricing and release timing, will be shared at a later date.
Yoshinori Ono, Executive Producer of the Street Fighter series, will be making an appearance on Nintendo's Treehouse Live on January 13th to showcase Ultra Street Fighter II. Watch it live on Nintendo's Twitch or YouTube Channel .
We here at Capcom can't wait to bring you the next edition of the classic Street Fighter II series. For the latest updates on everything Street Fighter, make sure follow us on Facebook and Twitter .
The Snow is Melting! Don't Miss Your Last Chance for SFV Holiday DLC!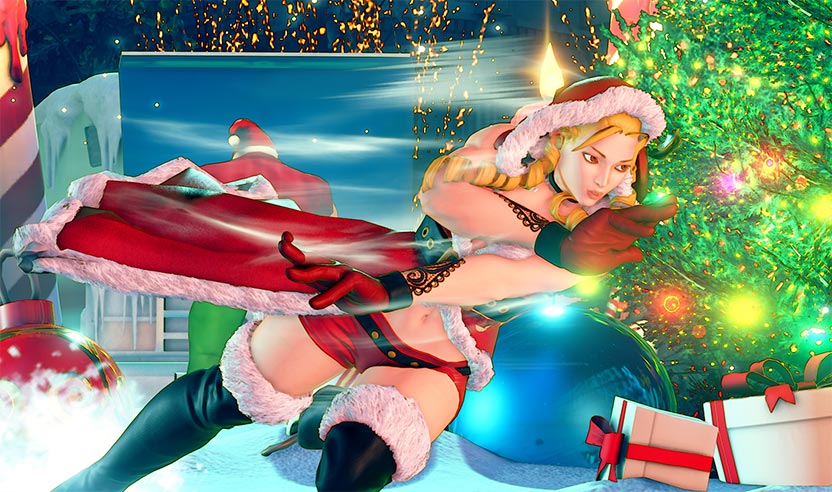 Happy New Year everybody!
We hope you all had a wonderful holiday and have been enjoying the beginning of Season 2 of Street Fighter V. If you haven't had a chance yet to celebrate the holidays in-game, be sure to act quick, because the Holiday DLC is going away soon. This special Holiday content will only be available for a few more days, ending January 17 th so be sure to grab them on the PlayStation and Steam Stores before they're gone.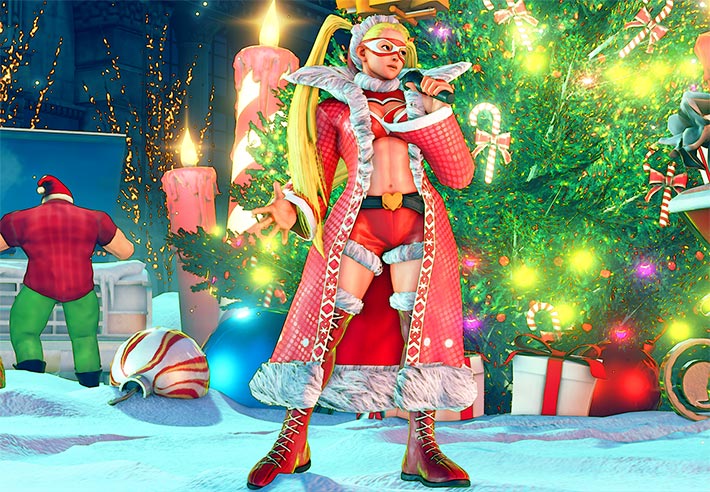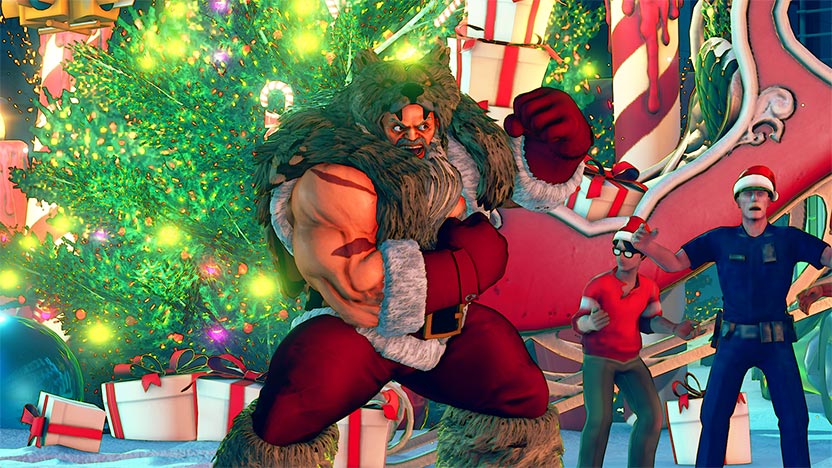 This content includes the six new Premium Holiday costumes and the Frost Boulevard alternate version of the New York stage as well as the Holiday bundle, which includes all content for the discounted price of $19.99 / €19.99 / £15.99. Check out our previous Capcom-Unity blogpost for more details and pricing.
Happy New Year from all of us here at Capcom. For the latest updates, follow us on Facebook and Twitter .
Welcome to Season 2 of Street Fighter V!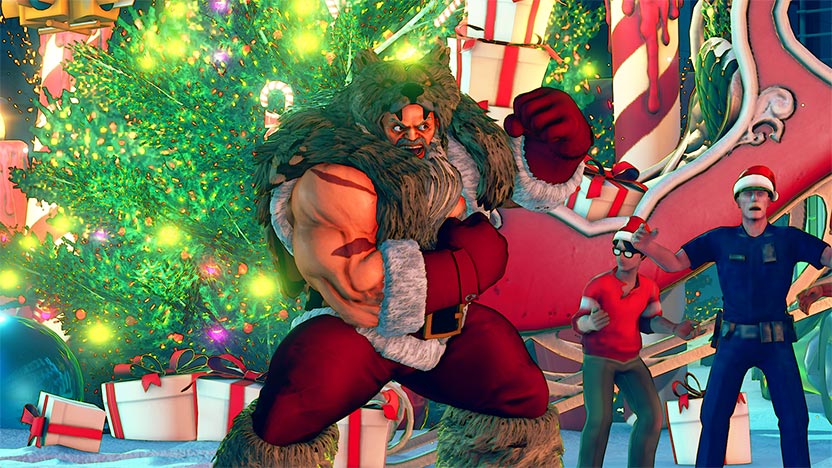 Happy Holidays from the Street Fighter Team!
As previously announced, December 20 th marks a huge content update for Street Fighter V. There's a lot coming out, so hit the jump for a quick recap.
First up is all of our festive Holiday DLC, Ryu's B-Boy and Chun-Li's B-Girl costumes. Don't forget, there is a holiday bundle that will include all of the holiday content for the discounted price of $19.99 / €19.99 / £15.99.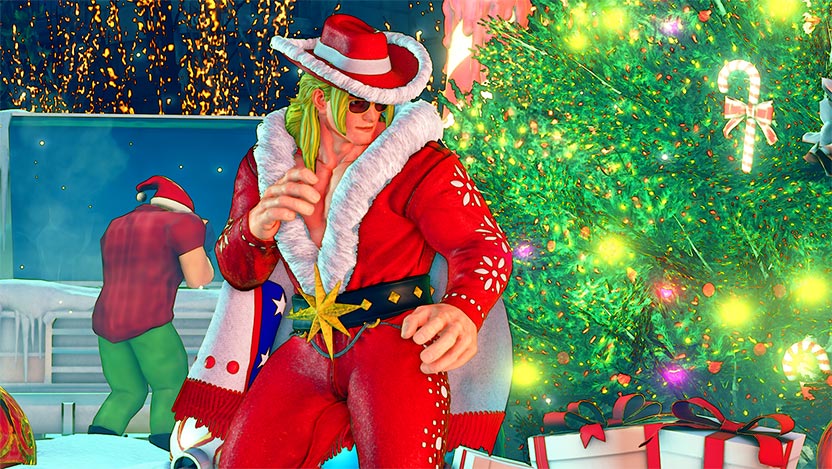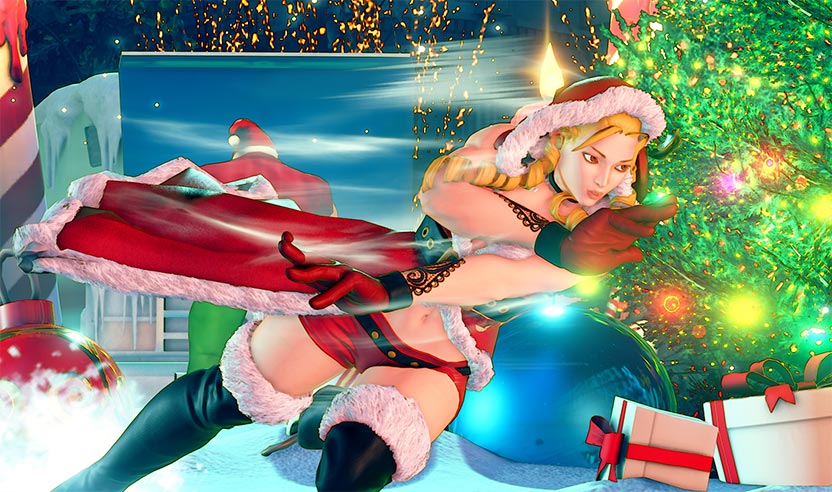 Please check out our previous blogpost for full pricing details on the Holiday DLC, including its trailer and screenshots.
As announced at PlayStation Experience 2016, Akuma will be making his debut to Street Fighter V and is coming tomorrow alongside his Story, Premium Battle and Nostalgia costumes. If you want to make sure you're set for next year, the Season 2 Character Pass is available for purchase here , and will grant you with Akuma, five brand new fighters throughout the year, Premium Battle Costumes for each and an exclusive PS4 theme.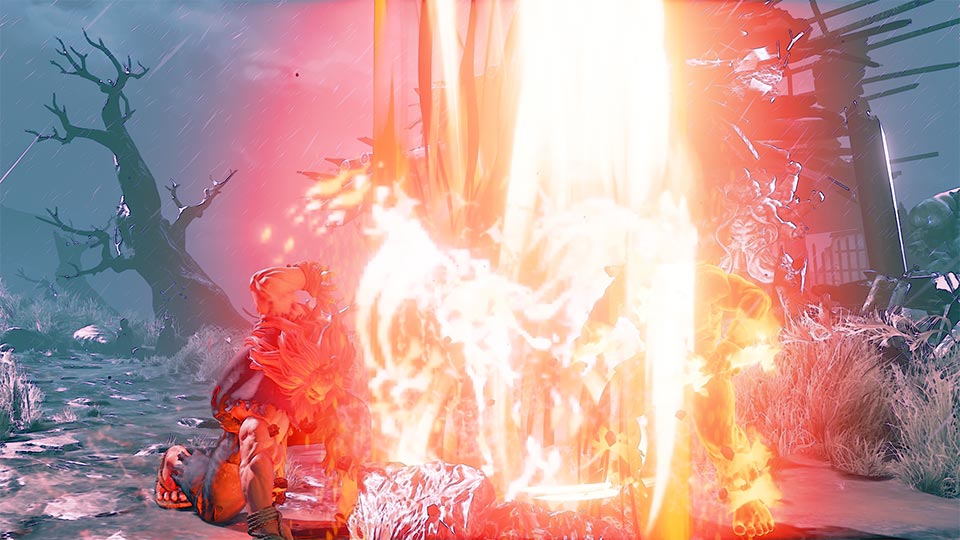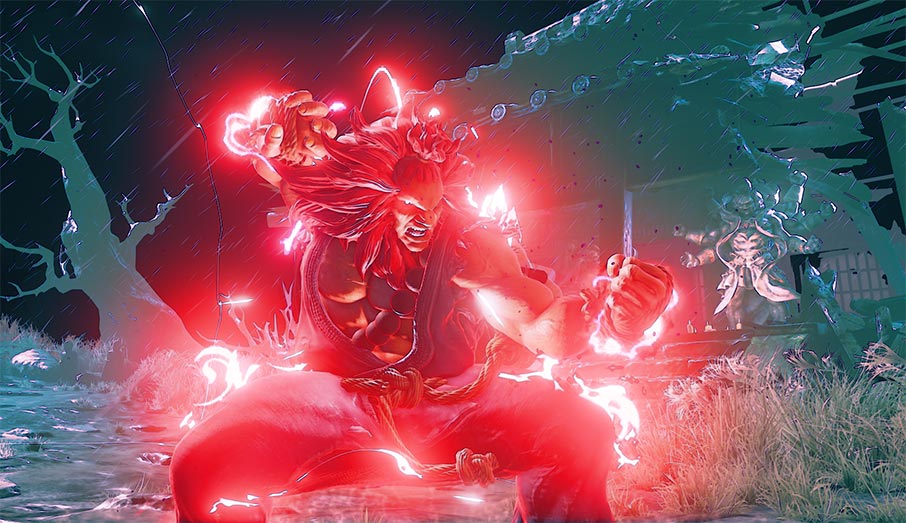 For more details on Akuma's moveset and costumes, click here .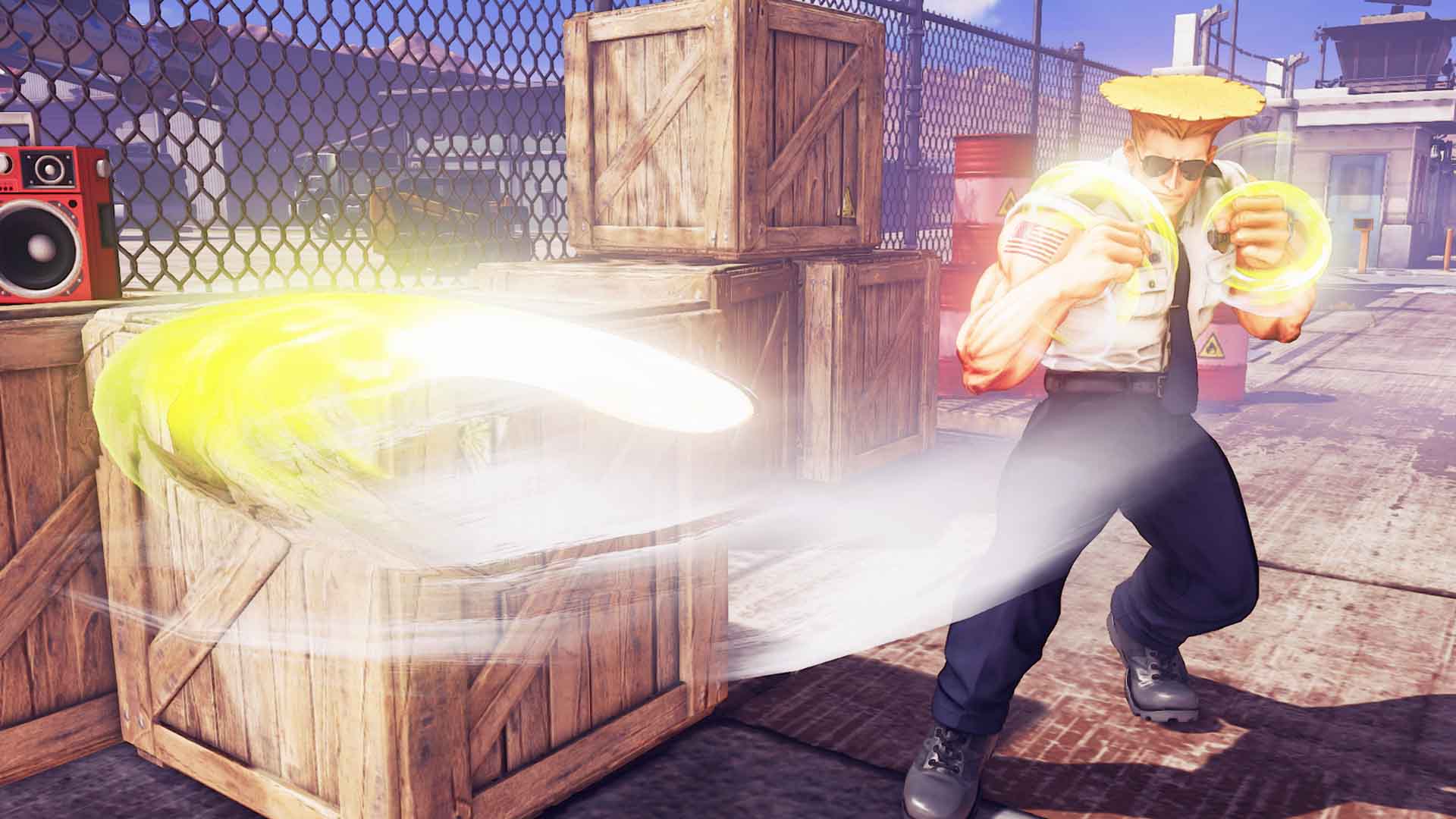 As Combofiend mentioned in his blogpost , the team has been hard at work ensuring the 2017 season of Street Fighter V is its best yet! We've been paying attention all year long and these balance changes are the combined result of Capcom Pro Tour tournaments, online play, player feedback, and internal testing. The goal was to ensure a rich, diverse gameplay experience with each character that both players and spectators can enjoy.
In addition to the balance changes, you'll find a few other features included in the patch:
Direct Input controller support
We are happy to announce that Street Fighter V on Steam now officially supports Direct Input controllers. You'll find this in the Other Settings section of Options.
Background Music Select
In Battle Settings, you'll now be able to select your preferred music in Training and Versus Modes as well as Casual and Ranked matches.
Fighter Profile Radar Charts
Additional updates and fixes have been implemented into Fighter Profiles.
Updated Rage Quit System
The current Rage Quit System has resulted in a significant decrease in rage quitting. That said, we always planned to take this one step further and are ready to further address the issue with this update. In addition to losing League Points and being locked out of online matchmaking for a set time, the following additions have been made to the system:
Matchmaking Update - Players who frequently disconnect during matches will now be more likely to be matched up with other players who exhibit similar behavior. The same applies for honorable players who rarely, if ever disconnect; they will be matched up with similar players.
Player Profile Icons - The worst offenders and the most honorable players will also have a special icon displayed on their Fighter Profiles.
League Points Deduction – Anytime a player disconnects during a match, their League Points will be deducted as if it was a loss.
For character-specific changes, we've created a handy pdf for easy access. You can download it here .
Overall
Many adjustments have been made to invincible moves that don't use meter. Since there was a big difference between characters who had invincible moves and those who didn't, such as a Shoryuken, many changes have been made to moves that were invincible with no cost.
Parameters and hit situations for all normal throws have been adjusted. Changes have been made to characters who can loop throws at the edge of the screen. Even after the adjustments, there will be some characters who can loop throws, as those parameters have been adjusted less compared to other characters.
Due to changes to the game, some general attacks have been adjusted for each character. Along with changes 1 and 2, and the other changes to the game, characters who were able to attack more often and had a long reach became significantly stronger. Due to this, regardless of the strength of the character, general attacks for all characters have been adjusted.
Ryu
Ryu's Shoryuken properties have been revised, while his general attacks have been changed to match the changes to the entire game. In addition to those changes, Ryu can now V-Trigger cancel the second hit of the Jodan Sanrengeki as well as special cancel his standing HP during V-Trigger, ultimately widening the moveset that can be used during footsies.
Ken
Ken's airborne Tatsumaki Senpukyaku parameters have been adjusted as the attack was quite strong. Although that may have weakened him in the air slightly, we made it so the Lion Breaker can be cancelled into his V-Skill, allowing Ken the ability to land high damage on the ground depending on the situation.
Chun-Li
Chun-Li's special moves such as Hyakuretsukyaku (both grounded and airborne) and Kikoken have been revised, and adjustments to advantageous parameters have been made. The duration of her V-Trigger has been shortened, but V-gauge is easier to fill up as she now has additional attacks from V-Skill and increased combo potential. Additionally, her new special move cancels have given her a wider range of attack variety.
M. Bison
Adjustments have been made to Psycho Reflect, where the player now gets to choose when they want to shoot the projectile received from absorbing an attack or projectile. Additionally, EX Psycho Blast range has been increased, allowing it to reach the edge of the screen, providing more options for attack. Hit invincibility has been added to EX Head Press during V-Trigger, giving him some defensive buffs as well.
Nash
Moves that were used frequently during footsies have been adjusted. Advantages on Side Knee Attack and Sonic Boom have been adjusted and a new target combo that includes Bullet Clear has been added to give him the ability to go on the offensive while in close range.
Karin
Parameters for most of Karin's general attack have been revised. As Karin's primary weakness was her lack of anti-airs, an airborne target combo has been added to strengthen her anti-air abilities.
Cammy
With the revision to Cammy's Cannon Spike, her defense has weakened a little. However, offsetting this is the addition of new combo possibilities and positive changes to her advantage after certain attacks have landed.
Birdie
Birdie's attacks have been adjusted to match the general changes to the game. The advantage after certain attacks have increased, including the ability to follow Standing HK to Standing MP and Crouching HP to H Hanging Chain.
Necalli
Parameters for all of Necalli's main moves have been revised. Opening Dagger can only be charged while V-Trigger is active, giving him a wider range of offensive options.
Vega
Parameters for some of Vega's normal attacks have been revised. As Vega's damage output was generally questionable, Aurora Spin Edge and Crimson Terror have been strengthened, increasing the return when they land.
Rashid
Rashid's attack options have been increased by making it easier to do combos that include V-trigger and CA. Additionally, his jumping MP has been adjusted so that it can combo into Airborne Eagle Spike, increasing his anti-air abilities.
R. Mika
R. Mika's properties for Passion Press and Passion Rope Throw have been revised so that she can no longer mix up the opponent anywhere, anytime. She also now has an airborne target combo, increasing her anti-air abilities.
Zangief
The advantage and distance between Zangief and the opponent when his moves land or are blocked has been adjusted, giving him more opportunities to choose between hits and throws. All special moves including Double Lariat have been adjusted.
Dhalsim
Dhalsim's special and normal moves used frequently during footsies have been strengthened, resulting in an increase in his ability to control range.
F.A.N.G
F.A.N.G's attacks frequently used at mid-range have been adjusted to be slightly slower, however the advantage on hit has been increased. As damage output with F.A.N.G was questionable, special moves can now be performed without charge during V-Trigger to allow for higher damage potential.
Laura
Laura's attacks have been adjusted to increase her overall combo potential. Additionally, her advantage after combos has been adjusted so that it's easier for her to continue offense.
Alex
To match the changes in the game, Alex's mid-range attacks have become a little slower. However, Alex's close range damage output has increased as new combo opportunities such as, Crouching LP > L Flash Chop and Lariat > Standing MP have been added. Additionally, the anti-air ability of crouching HP has been improved, making it easier to do damage when he properly reads the opponent.
Guile
Adjustments have been made to Guile's unique attacks, such as decreasing the hurtbox around his feet during the Rolling Sobat and increasing the advantage on his Knee Bazooka and Reverse Spin Kick. By increasing the strength of these attacks, there should be an increase in the amount of unique moves used during footsies.
Ibuki
Ibuki's dash has been sped up as well as her jump to help her close the distance against the opponent quicker. Her standing MK has also been strengthened greatly to provide more attack/defense options once she gets in.
Balrog
Balrog now has more ways to break through the opponent's guard. Changes, such as minimizing the recovery on Buffalo Pressure, increases his mix up potential and making crouching MK a low hit gives him greater high/low options. Special moves such as Screw Smash have been changed from charge moves to command moves to help with offense, while adjustments have been made to each stage of Turn Punch, to increase how much space Balrog can move in an instant.
Juri
Attack properties of Juri's normal attacks have been adjusted while combo potential has been increased through modifications to her standing MP to standing MK. Additionally, her ability to cancel all versions of Fuharenkyaku with her V-Skill allow her greater movement options.
Urien
Some of Urien's normal attacks have been revised, resulting in an increase in a greater advantage after those attacks hit or are blocked. Another offensive improvement is that jumping LK can now cross-up, resulting in more offensive variety. On the defensive side, crouching HP startup has been quickened in an effort to increase his anti-air abilities.
Lastly, we here at Capcom would like to wish everybody a Happy Holidays and a Happy New Year. It has been a fantastic year and we are even more excited for what we have in store for you in 2017. Next year marks the 30 th Anniversary of the Street Fighter series and for the latest updates on our upcoming celebrations, make sure you follow us on Facebook and Twitter .
Check out the NEW Capcom Store Experience!
Just in time for the holiday gift-giving season, we're excited to announce the launch of a new Capcom Store site featuring a huge assortment of new, exclusive t-shirt and apparel designs guaranteed to have something in store for every Capcom fan. We've got a gigantic assortment of designs featuring some of your favorite franchises including Resident Evil, Street Fighter, Mega Man, and more, so check out the Capcom Store to see what's on sale, or read on for more info! And don't forget - use the discount code "UNITY" (without the quotes) to save 15% on your order!
The producers of the new site and apparel at Pinpoint Merchandising (Irving, TX) are diehard Capcom fans, and have worked closely with Capcom on making sure each design is faithful to its source. It's much more than just a game logo or character art on a t-shirt. Many feature a brand-new, imaginative take on classic figures such as Dhalsim's Hot Yoga Studio, Rolento Tomatoes, and Hakan's Virgin Olive Oil, as well as vintage designs featuring Street Fighter victory poses, new takes on classic icons, and more!
The apparel quality is first-rate, featuring soft dyes on high quality, pre-shrunk, soft fabric. Many designs are available in both women's and men's sizes, ensuring that there's something comfortable to wear for every type of Capcom fan, no matter the brand or character they like best.
The dynamic new website will feature new designs on a regular basis, special deals and offers, limited edition designs, and more. Plus, they have the entire Capcom universe to play with, so don't be surprised to see classic favorites alongside recent icons. We want to hear from you what you'd like to wear next! As an added bonus, use the code "UNITY" at checkout to save 15% on your order!
If you're still looking for the best in Capcom collectibles, don't worry – we'll continue to feature the regular Capcom Store site with all the latest gear and collectibles. Make sure you bookmark both sites to find that perfect holiday present for your favorite gamer (including yourself)!
Save big with the Capcom sale on the Humble Bundle Store!
It's the season of giving, which means it's also the season of savings! Capcom has teamed up with the Humble Bundle Store to help you grab some great games at great prices. Whether you're buying a gift for a friend or family or grabbing something special just for you, you can choose to donate 5% of your purchase to a charity of your choice while saving big on Dead Rising 3, Devil May Cry 4: Special Edition, Street Fighter V, and more! These sales end on December 11th, so be sure to hit the jump for a full discount list!
| | | | |
| --- | --- | --- | --- |
| Title | Regular Price | Discount | Sale Price |
| | $9.99 | 80% | $2.00 |
| | $15.99 | 80% | $3.20 |
| | $9.99 | 80% | $2.00 |
| | $9.99 | 80% | $2.00 |
| | $19.99 | 20% | $15.99 |
| | $19.99 | 70% | $6.00 |
| | $32.99 | 65% | $11.55 |
| | $19.99 | 70% | $6.00 |
| | $29.99 | 50% | $15.00 |
| | $64.99 | 70% | $19.50 |
| | $19.99 | 75% | $5.00 |
| | $24.99 | 50% | $12.50 |
| | $29.99 | 75% | $7.50 |
| | $39.99 | 75% | $10.00 |
| | $49.99 | 65% | $17.50 |
| | $29.99 | 60% | $12.00 |
| | $14.99 | 67% | $4.95 |
| | $14.99 | 67% | $4.95 |
| | $24.99 | 80% | $5.00 |
| | $39.99 | 80% | $8.00 |
| | $14.99 | 80% | $3.00 |
| | $14.99 | 50% | $7.50 |
| | $29.99 | 80% | $6.00 |
| | $32.99 | 80% | $6.60 |
| | $19.99 | 50% | $10.00 |
| | $19.99 | 65% | $7.00 |
| | $59.99 | 74% | $15.60 |
| | $19.99 | 65% | $7.00 |
| | $14.99 | 40% | $8.99 |
| | $29.99 | 54% | $13.80 |
| | $29.99 | 75% | $7.50 |
| | $39.99 | 79% | $8.40 |
| | $19.99 | 50% | $10.00 |
| | $29.99 | 77% | $6.90 |
| | $29.99 | 50% | $15.00 |
| | $39.99 | 74% | $10.40 |
| | $59.99 | 50% | $30.00 |
| | $89.99 | 40% | $53.99 |
| | $29.99 | 25% | $22.49 |
| | $29.99 | 80% | $6.00 |
| | $14.99 | 70% | $4.50 |
| | $29.99 | 50% | $15.00 |
| | $39.99 | 50% | $20.00 |
Street Fighter V 2017 Season: Our Goal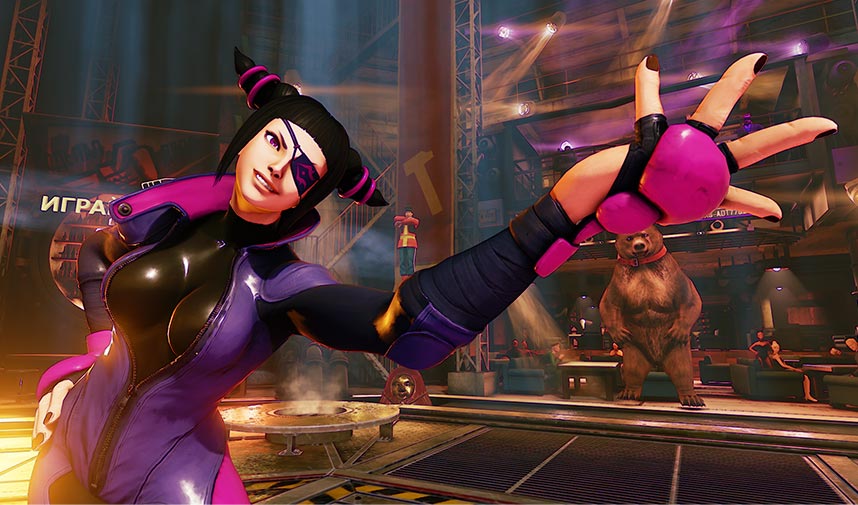 Hey guys - long time no see!
I've been in the background as of late, working with the battle team to ensure that Street Fighter V's 2017 season balance changes, which are coming in a few weeks, will build on the goal we nearly accomplished during the 2016 season: To have each character's uniqueness truly shine!
Continue on for more details on what we mean by that exactly as well as a few of the steps taken to get there.
From every iteration of Street Fighter since Street Fighter II, it's been through the uniqueness of each character, that players from all over the world have been able to express themselves with their favorite character. It's also through this uniqueness that we can see varying styles, even among the same characters.
What we noticed in the 2016 season of Street Fighter V was that although each character has the tools to allow for a distinct experience, there were a few things, which were quite strong in general, resulting in players using them more than the unique attacks each character possesses.
This led players, both the attacker and the one being attacked, to have a similar experience regardless of which characters were being used. We think that by reducing each character's similarities, we can allow players to fully express themselves through their favorite characters, further providing the Street Fighter experience players have come to know and love.
Although I can't get into all the specific change details just yet, as that's subject to our comprehensive 2017 season changelog post due in the coming weeks, below are 3 areas we're focusing on to give you a better idea of where we will address character similarities:
Recovery After Successful Throws
Strong Anti-Air Light Attacks
Invincible Reversal Reliance
In addition to these three areas, we are also looking at a variety of factors (such as advantage/disadvantage on hit and block, character vitality and stun values, hitbox and hurtbox sizes, etc.) per character when deciding on what changes to make to further diversify them. Overall, we think the changes made will result in a rich, diverse experience per character that both players and spectators will enjoy. We look forward to seeing what character specialists appear throughout 2017 as new characters get released. Prepare to not only have your favorite character's uniqueness shine, but to have yours shine as well.
Akuma, the Master of the Fist, is coming to Street Fighter V!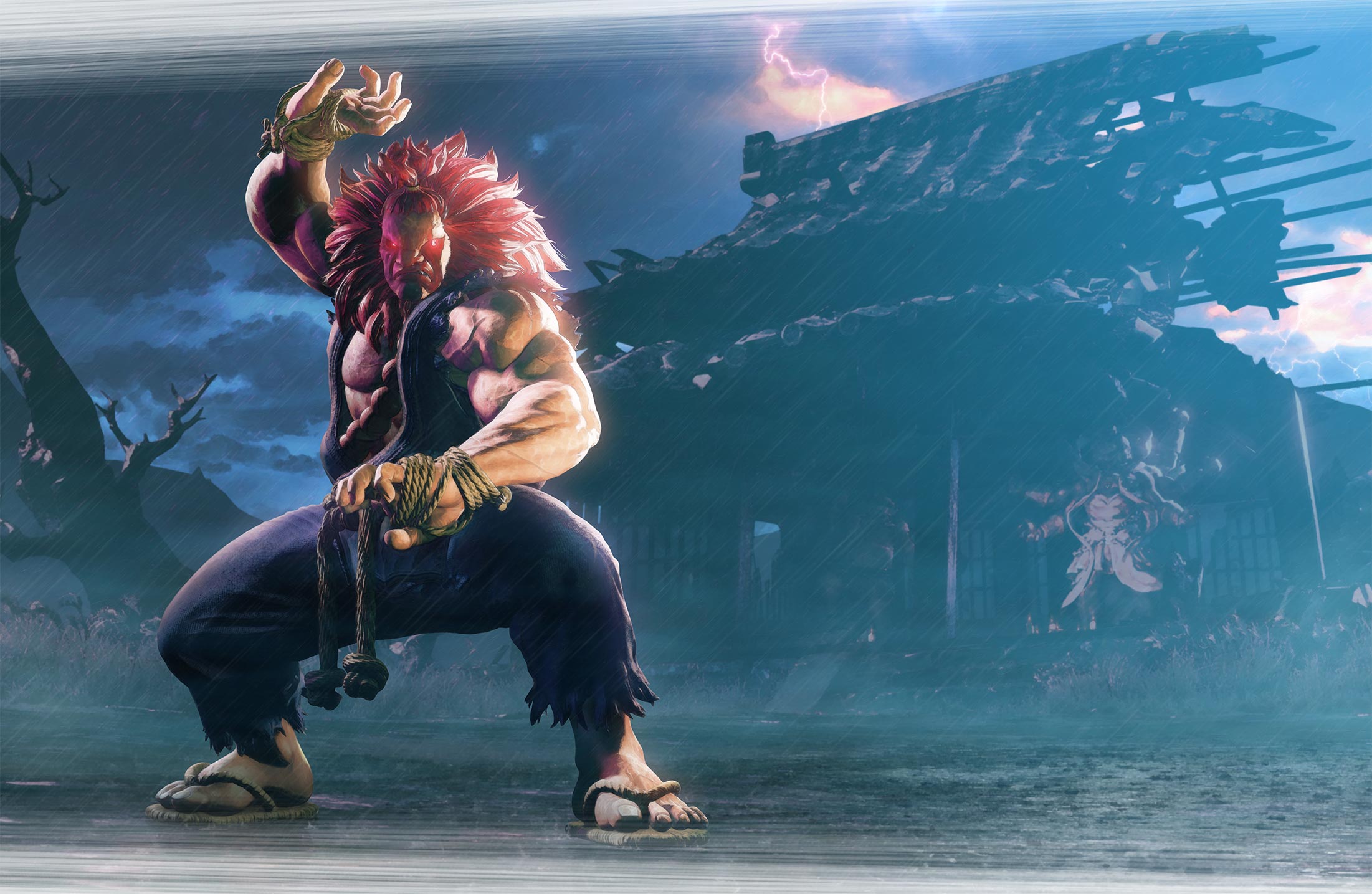 Hey Ansatsuken followers!
As announced on-stage during the PlayStation Experience keynote, Akuma, the Master of the Fist, is the first Season 2 DLC character for Street Fighter V! Hit the jump to check him out in action!
A staple of the Street Fighter series ever since his secret appearance in Super Street Fighter II Turbo, Akuma is a savage, but well-honed Ansatsuken master consumed by the Satsui no Hado. Akuma represents the danger Ryu faces if he is unable to control the Satsui no Hado within him, and while Akuma appears to have some set of morals, he believes the highest form of battle is that in which participants put their lives on the line.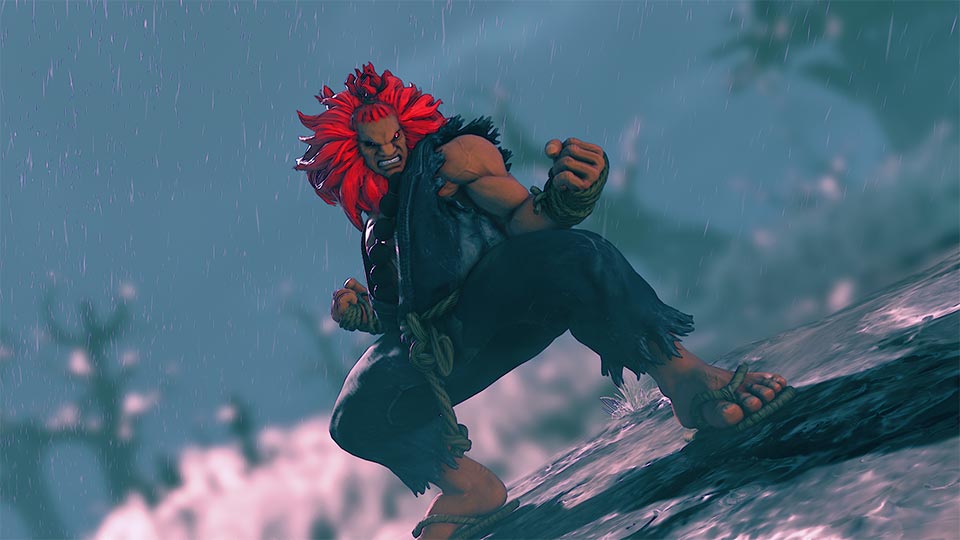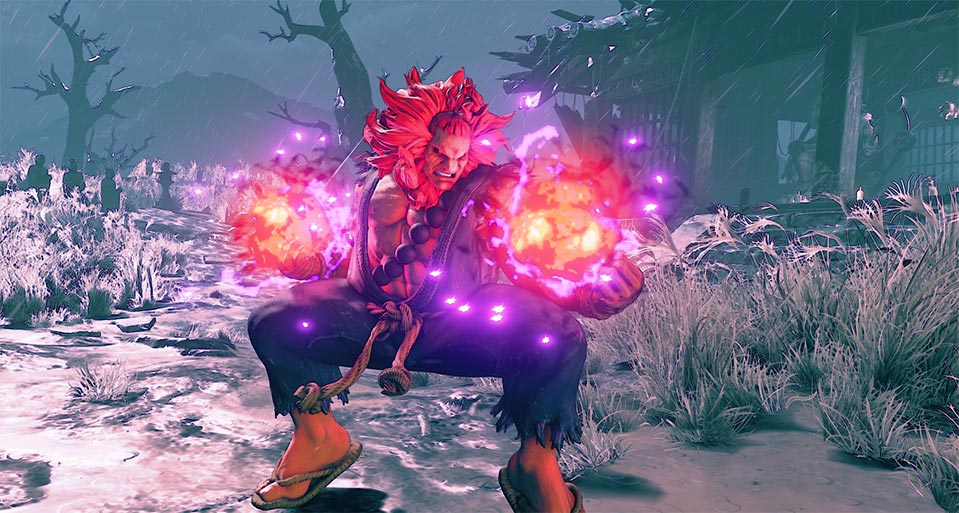 Akuma returns to Street Fighter V, displaying his mastery of Ansatsuken and while he has become burlier than previous games, he possesses quick footwork and devastating combos. He has a wide array of destructive tools and is able to completely out-class opponents with his oppressive pressure. His moves and stances often strike poses reminiscent of Buddhist statues and Ukiyo-e paintings.
How does Akuma feel about Ryu's approach to overcoming the Satsui no Hado and what is his relationship to Necalli? Be sure to check out his character story to find out!
V-Skill: Rakan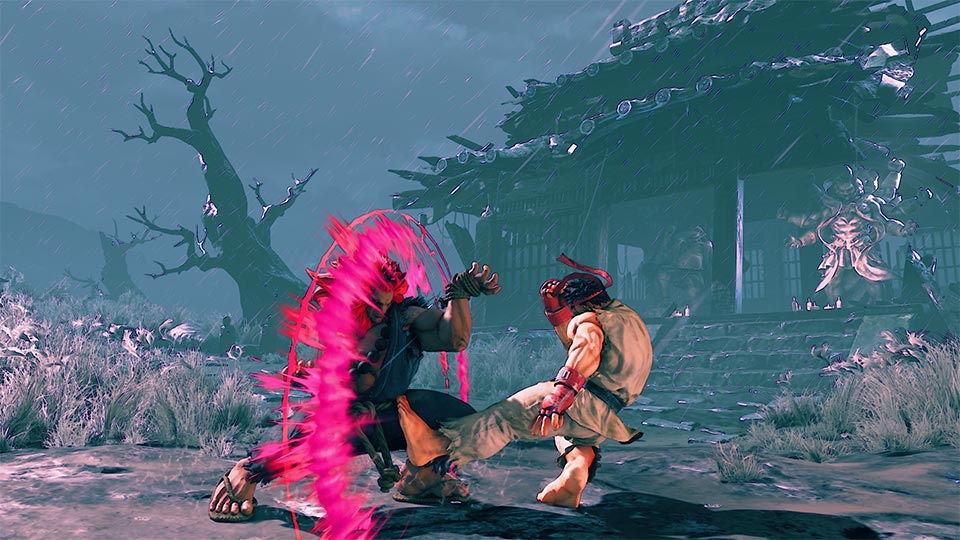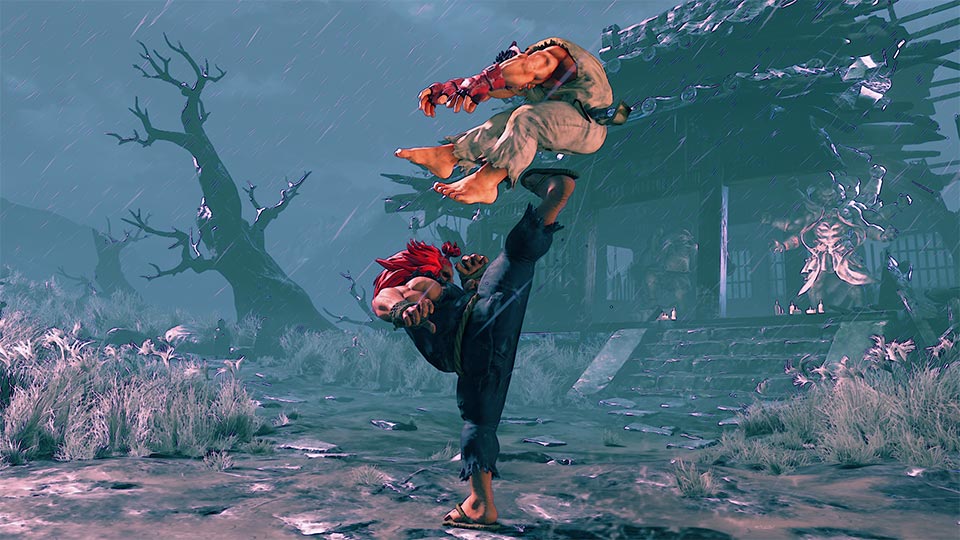 Akuma strikes a defensive stance and similar to Ryu's Mind's Eye, can parry an incoming attack. He can follow-up the move with an upward kick or a long reaching palm strike.
V-Trigger: Dohatsu Shoten
Akuma powers up and envelops his body with ki to enter Dohatsu Shoten mode. In this mode, his Gohadokens are more powerful, now able to travel full-screen and he can unleash two in the air even while jumping backwards. Additionally, when he lands his Goshoryuken attack, he follows-up and violently drives his opponents into the ground.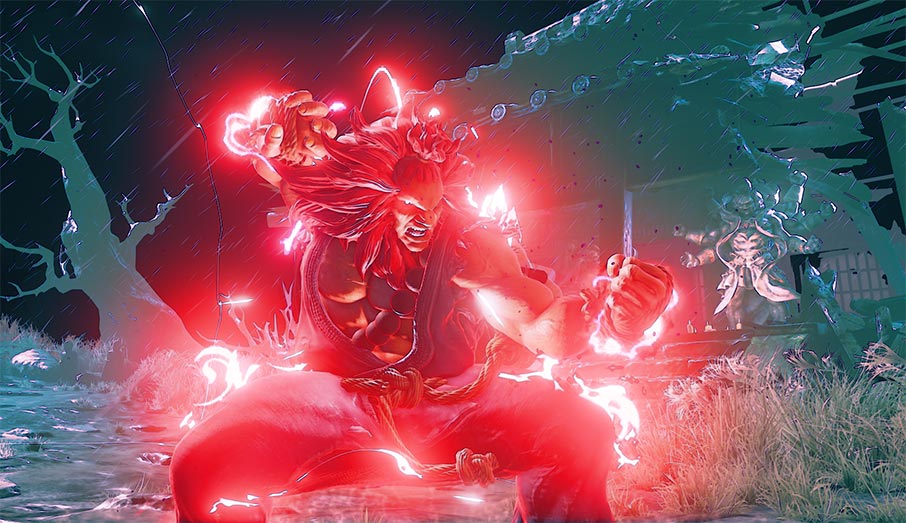 Critical Art: Sekia Koretsuha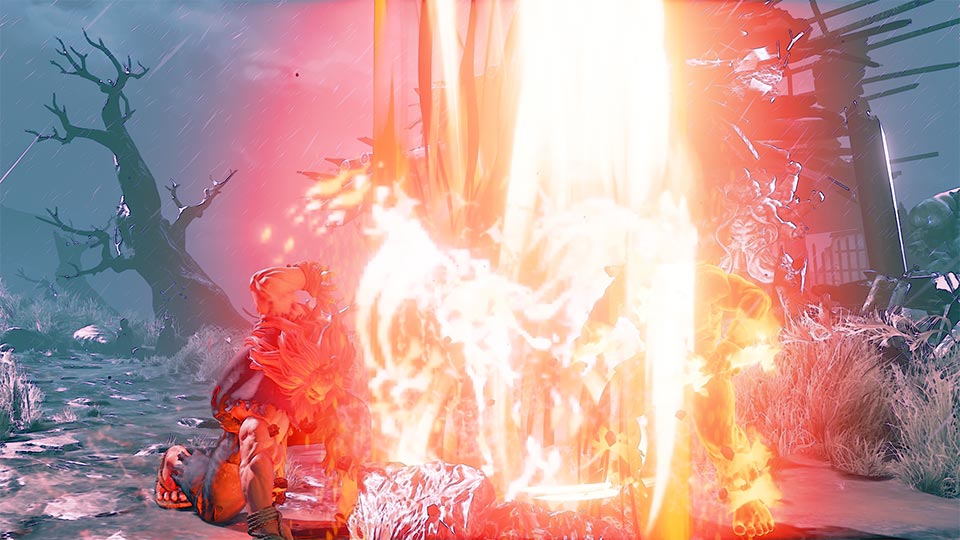 Akuma channels an incredible amount of ki into his palm and drives it into the ground, striking the opponent with an exploding pillar of fierce energy.
Critical Art: Shun Goku Satsu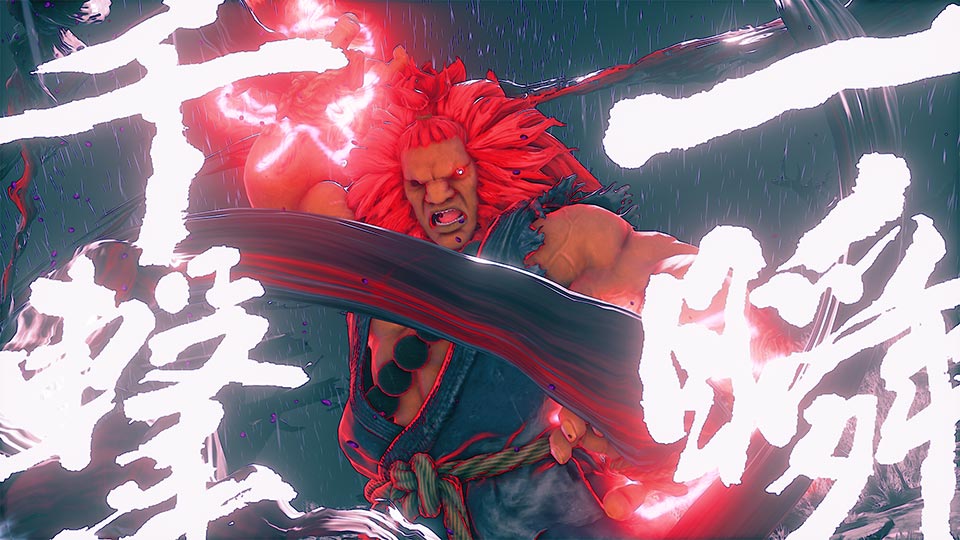 Only accessible while in Dohatsu Shoten mode, Akuma's most powerful attack returns. He glides towards the opponent and grabs them, resulting in a series of devastating strikes in the blink of an eye.
As announced at PlayStation Experience, Akuma is coming to Street Fighter V on December 20 th alongside our Holiday Content, B-Boy Ryu and B-Girl Chun-Li. Akuma's Story, Premium Battle and Nostalgia costumes will also be available when he releases on the 20 th.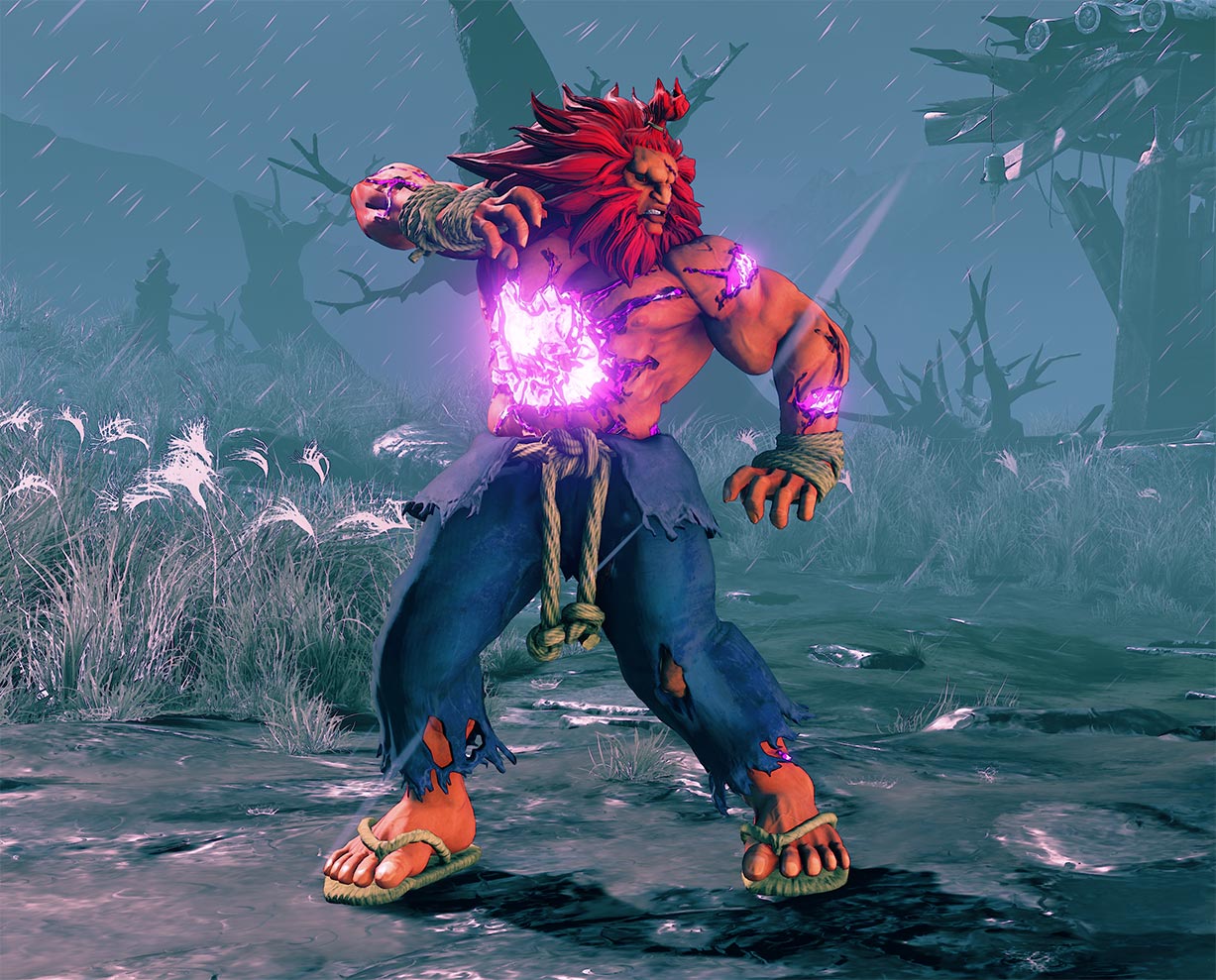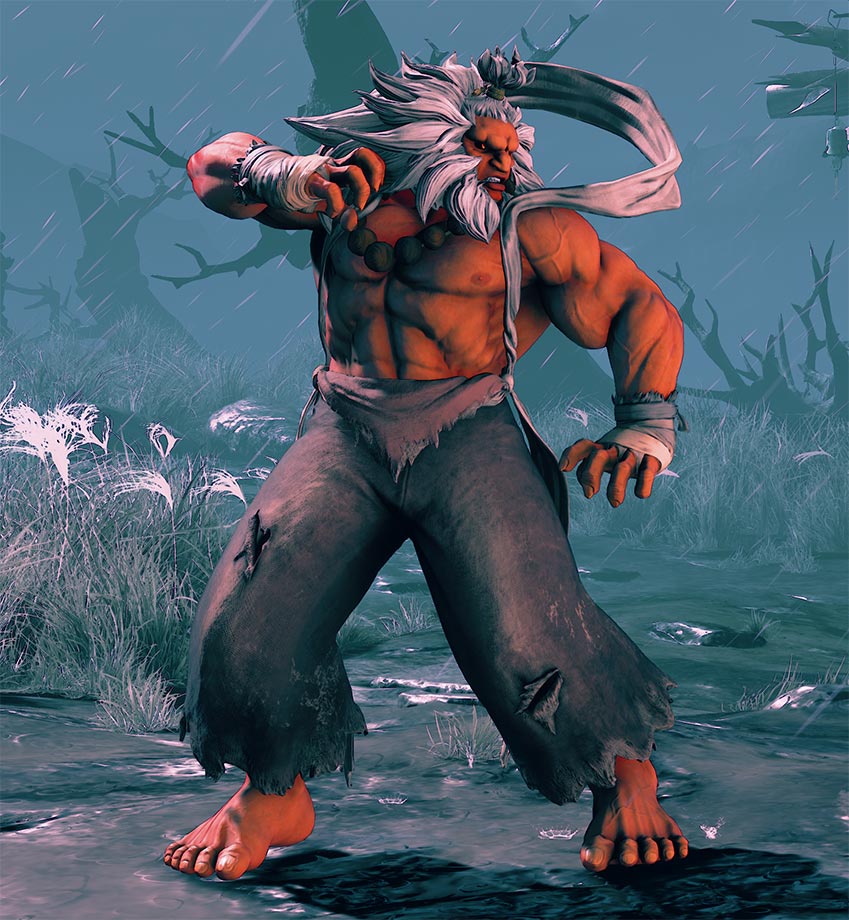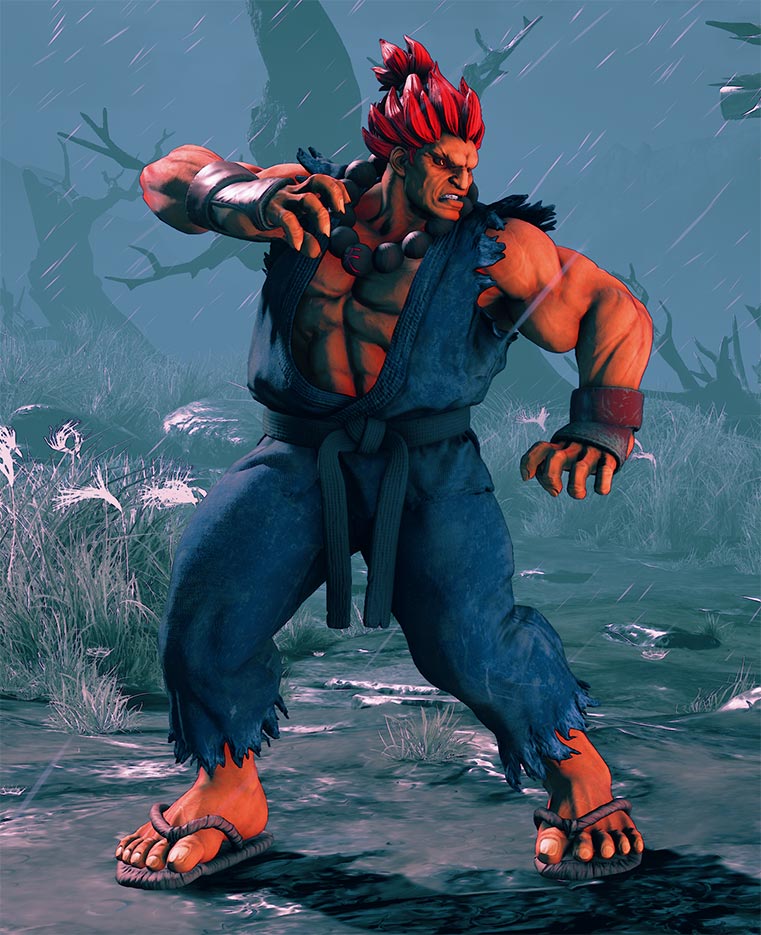 If you want to be in the best shape for 2017, the 2017 Character Pass also releases on December 20 th for $29.99 / €29.99 / £24.99 and will grant pass holders with Akuma, in addition to 5 brand new fighters as they join the fray throughout 2017. The pass also comes with Premium Battle Costumes with colors 3-10 unlocked and default costume colors 3-10 for each character. Additionally, 2017 Character Pass holders will receive an exclusive PS4 theme!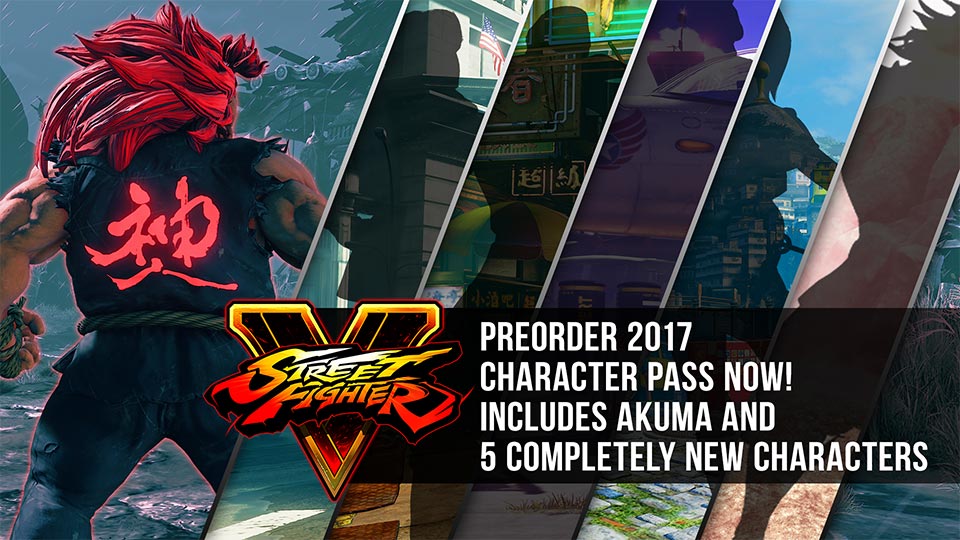 For more information on our Holiday Content and Red Bull Costumes, click here . As always, for the latest updates on Street Fighter V, follow us on Facebook and Twitter .
December Brings Holiday Cheer to Street Fighter V!
It all comes down to this!
Before we head out to PlayStation Experience (PSX) in Anaheim where Capcom Cup will be taking place this weekend, we wanted to give you a look at what's to come to Street Fighter V in December.

The tree has been decorated, presents are wrapped, and stockings are stuffed. Six new Premium Holiday costumes and a special Holiday-themed version of the New York stage are coming for Street Fighter V! Alongside the freshly fallen snow, Alex's hometown is now decorated for the holidays with festive lights, ornaments only his mighty shoulders could lift, and presents scattered throughout.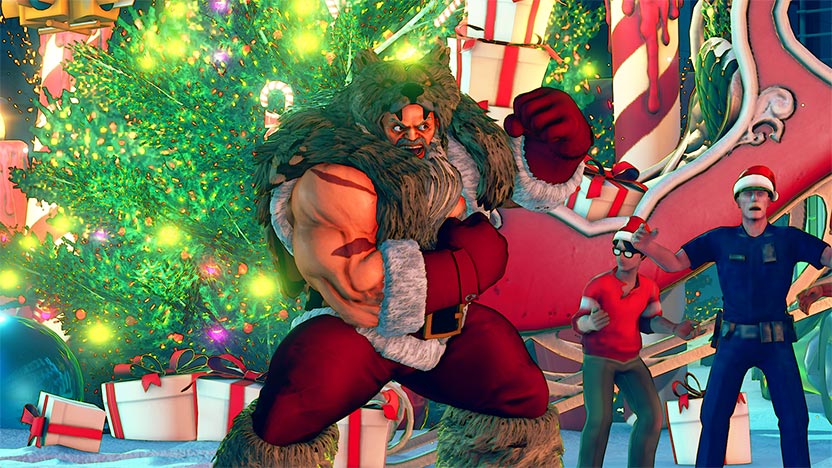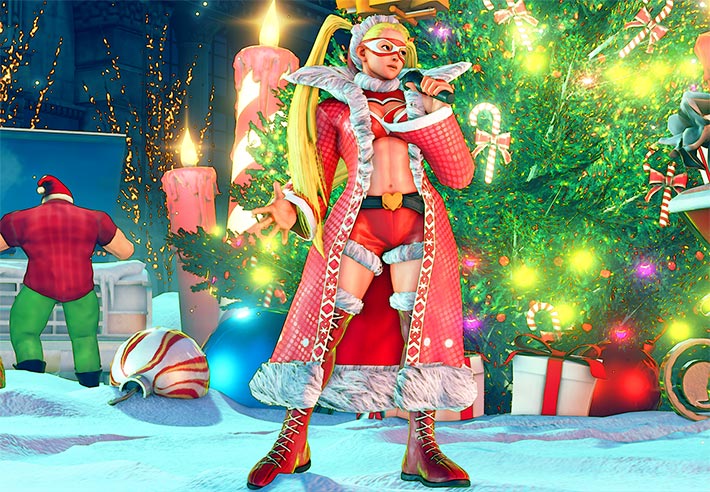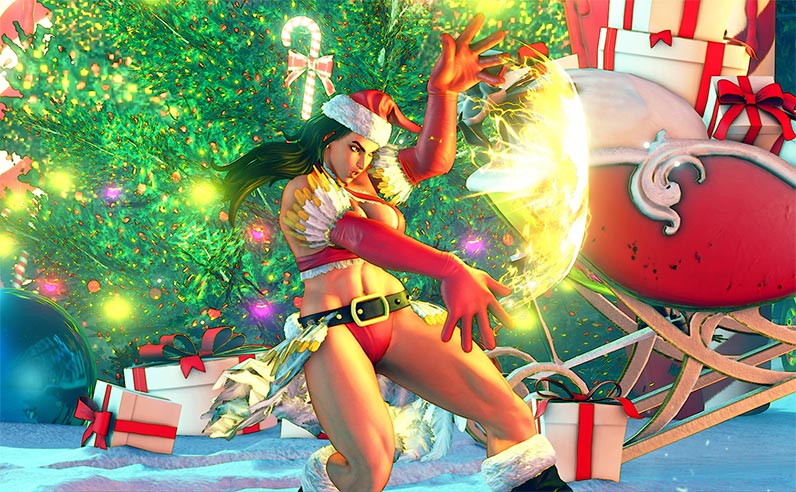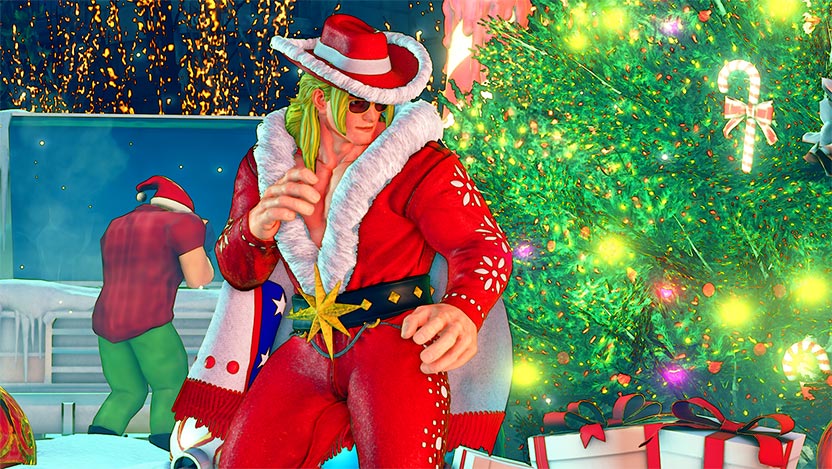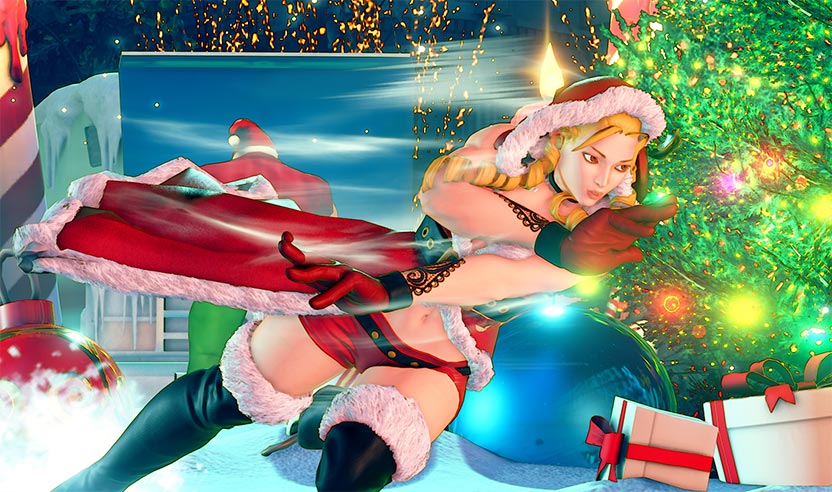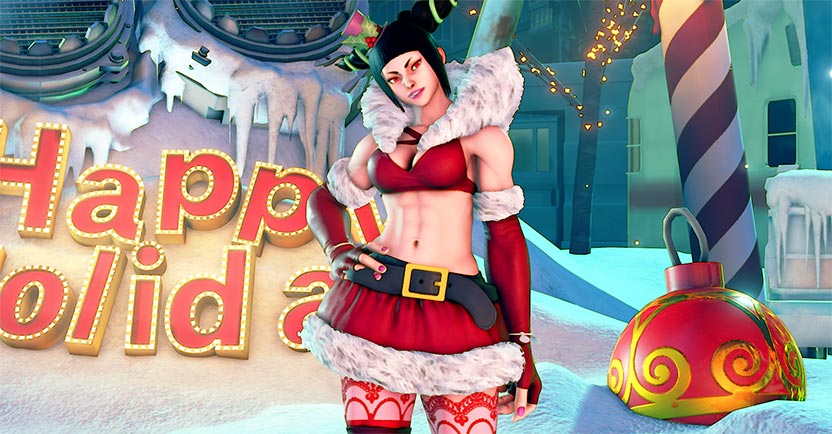 Each Premium Holiday costume is priced at $3.99 / €3.99 / £3.29 and includes colors 1-10. The Holiday stage is priced at $1.99 / €1.99 / £1.29 or 40K Fight Money. Additionally, there is a Holiday bundle that will include all of this content for the discounted price of $19.99 / €19.99 / £15.99. This special Holiday content will only be available for a limited time ending January 17 th so be sure to grab them on the PlayStation and Steam Stores to celebrate. The release date will be announced during PSX!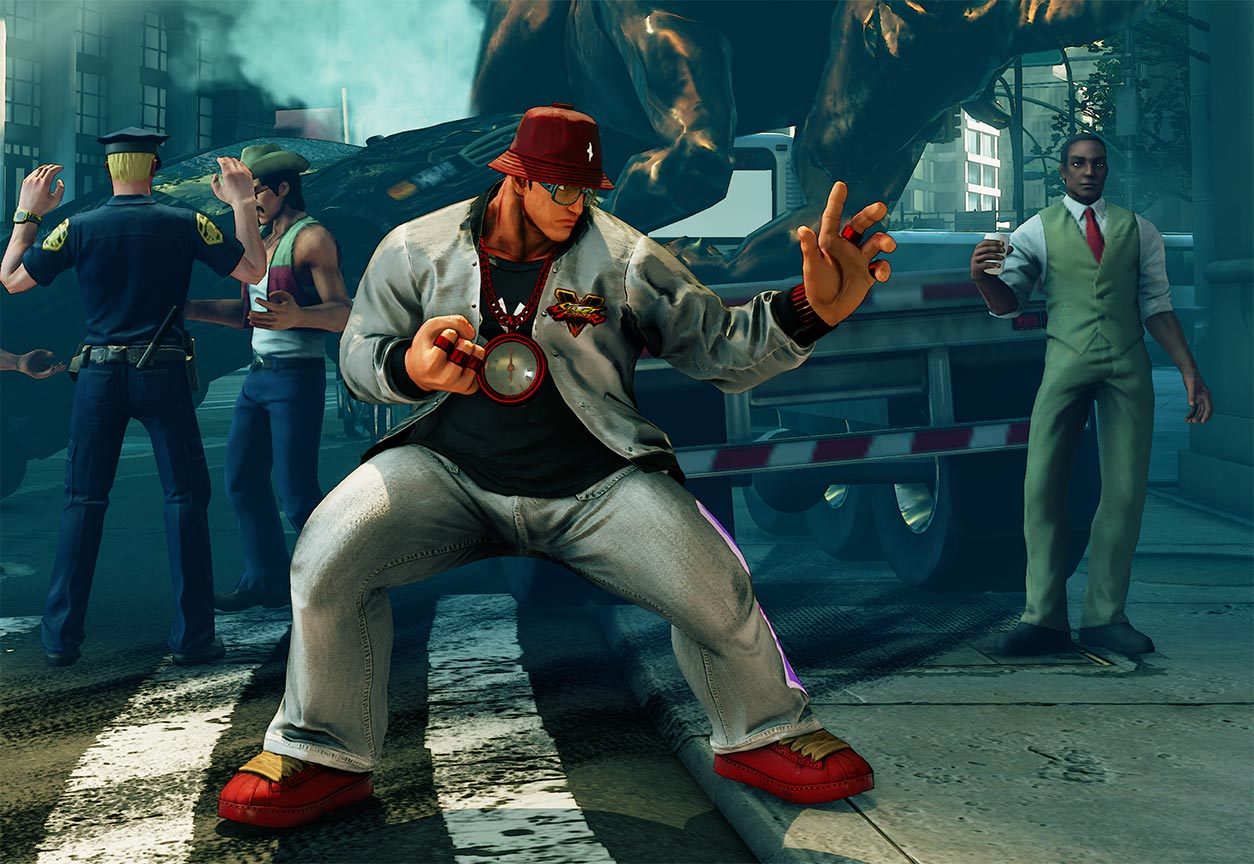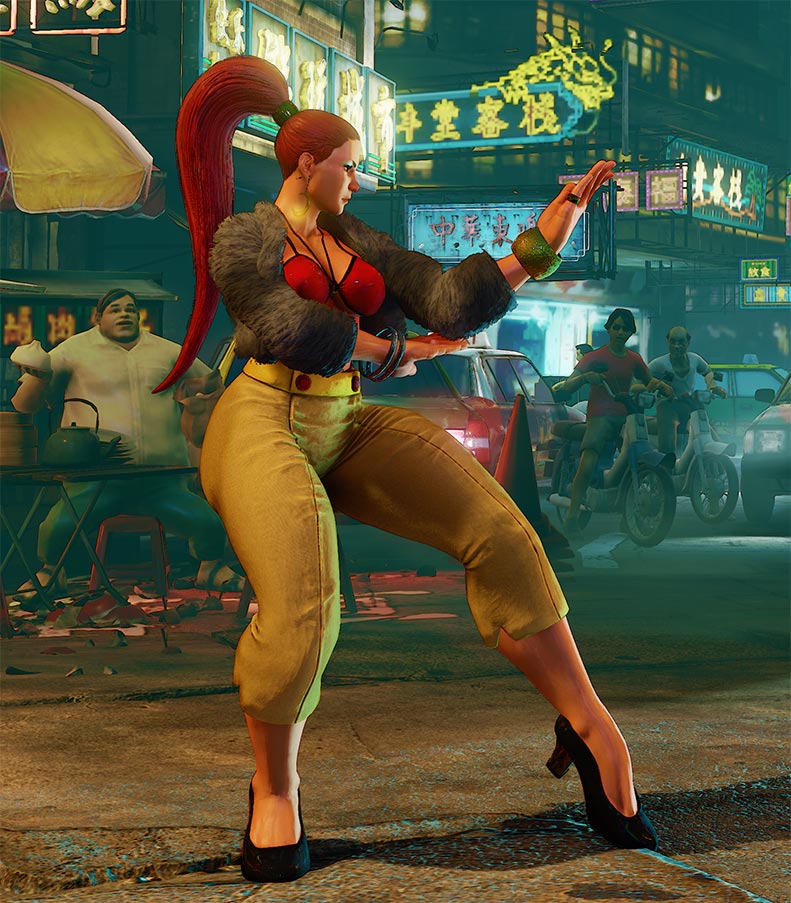 Are you ready to throw down? Also coming to Street Fighter V are B-Boy and B-Girl costumes for Ryu and Chun-Li. These premium costumes are $3.99 / €3.99 / £3.29 each and also include colors 1-10.
PlayStation Experience attendees will have a chance to try out all of this content at the Capcom booth before it is officially released. Also, if you tuned in to Red Bull Battlegrounds, the very first Season 2 character will also be unlocked for play. The release date for the Holiday content, B-Boy/B-Girl costumes and the first Season 2 character, will be announced during PSX.
Also at PSX will be Yoshinori Ono, executive producer of Street Fighter V, and attendees will have a chance to meet him and his beloved Blanka toy throughout the weekend. Be sure to pack your own coveted Street Fighter memorabilia to get them signed by Ono himself! Details on these autograph sessions below.
December 3rd

2-3pm at the Capcom booth
4-5pm at the Sony Meet and Greet station
December 4 th

12:30-2pm at the Capcom booth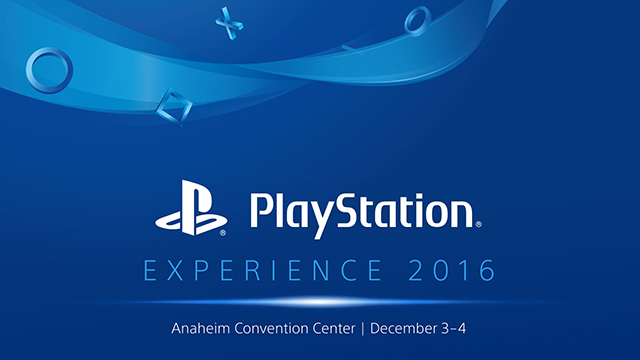 This year's Capcom Cup will be a two day event with Top 32 to Top 8 held at Esports Arena in Santa Ana, CA. Top 8 finals will be held the day after, about 10 minutes away at PlayStation Experience in the Anaheim Convention Center.

Tickets for Capcom Cup day one at Esports Arena are available via Ticket Fairy . Note that a separate ticket is required for both events. Tickets to PlayStation Experience can be found here .
For full details on both days of Capcom Cup, check out our PlayStation Blog post .
Happy Holidays from all of us here at Capcom! Be sure to tune in to the PSX keynote as we have more announcements coming then. For the latest updates, follow us on Facebook and Twitter .
Capcom at PlayStation Experience 2016
The PlayStation Experience (or PSX for short) has a new home in Anaheim, California this year, and Capcom (Booth #B1400) will be there with some of our latest and greatest games alongside the Capcom Store with the latest merchandise! Read on for more info about what you can expect at the Anaheim Convention Center.
Resident Evil 7 biohazard
Prepare for a scare with a terrifying demo of Resident Evil 7 biohazard, fully playable with PlayStation VR on the show floor. This demo will be unlike anything we've had at previous shows and is sure to be popular, so if you're able to make it out to PSX, be sure you head to the booth early, grab a ticket, and lock in a time to play!
In addition, Resident Evil Series Producer Masachika Kawata will be available for a signing session at the Sony booth from 3:00 PM to 3:45 PM on Sunday, December 4th! Be sure to bring a piece of Resident Evil gear or memorabilia for him to sign!
Street Fighter V
Not only will Street Fighter V be playable on the show floor, but upcoming playable content will be available to play as well. Plus, we'll have multiple tournaments throughout the day on Sunday, December 3rd, so if you want to prove you're the best of the best at PSX, make sure you sign up early for a shot at some great prizes!
Plus, the legendary Executive Producer of Street Fighter, Yoshinori Ono, will be holding signing sessions at the Capcom and Sony booths with his signature Blanka figure. Don't forget to bring your own favorite piece of Street Fighter memorabilia for him to sign!
Ono-san signing times:
Capcom Booth
Saturday, Dec. 2nd: 2 PM to 3 PM
Sunday, Dec. 3rd: 12:30 PM to 2 PM
Sony Booth
Saturday, Dec. 2nd: 4:00 PM to 5:00 PM
Capcom Cup 2016
The main event of the 2016 Capcom Pro Tour, Top 8 of the Capcom Cup 2016 will be taking place right on stage at PSX! See who will rise up and take the number one spot during the culmination of this year's Pro Tour, taking victory, glory, and a share of over $350,000 in prize money, part of which is thanks to community contributions from purchases of the Capcom Pro Tour DLC. If you're at PSX, you don't want to miss out on this chance to watch the finals live! Even if you can't make it, you'll still be able to catch all the action on the Capcom Fighters Twitch channel .
Capcom Store
The Capcom Store will be there with all the latest and greatest Capcom products, including products based on Resident Evil, Street Fighter, Monster Hunter, Mega Man, and some fantastic Capcom Cup 2016 swag! Check out some of the items you can find below:

Capcom Cup 2016 Poster: $7.00
Grab a striking 18" x 24" poster featuring Necalli, surrounded by coins featuring all 32 players who qualified for Capcom Cup over the course of 2016! This design is also available as a t-shirt for $30.

Ryu Statue (Alternate Colors): $60.00
This 10" tall Ryu statue in variant colors is sure to be a popular centerpiece to any Street Fighter collection, with Ryu striking his iconic pose from the cover of Street Fighter V .
Mega Man Headphones: $70
These stylish headphones feature a design that's unmistakably Mega Man, complete with LED lighting and super high fidelity sound quality. A limited edition gold variation is also available for $100!
If you're attending PSX this year, we hope to see you there!
Capcom Holiday savings are here for PS4, 3DS, and PC on PSN, eShop, Steam, and more!
It's a special time of year. Halloween is behind us, the holiday season isn't too far ahead of us, and Thanksgiving is wedged right in the center. Sure, you could brave the crowds on Friday and fight to find bargains, but you can also grab great Capcom games comfortably from your own home with a ton of sales on PSN and PC! We've got a full list of sale prices for digital games on PlayStation 4, Nintendo 3DS, and PC through the weekend, including Street Fighter V for $30 on PS4 and PC (Steam), Dragon's Dogma Dark Arisen (PC Steam) for $12, Monster Hunter Generations (3DS) for $24 and more! Plenty of DLC is on sale too, so you can grab add-ons to make your new games shine even brighter.
Feeling extra generous during this season of giving? Vote for your favorite Capcom games in the Steam Award Nominations , too, and earn yourself a shiny badge for your Steam profile. Hit the jump for a full list!
Nintendo 3DS eShop (Sales end Dec. 5th)
| | | |
| --- | --- | --- |
| | $39.99 | $23.99 |
| | $14.99 | $7.49 |
| | | |
PSN (Sales end Nov. 29th, 2016)
| | | |
| --- | --- | --- |
| | $59.99 | $30.00 |
| | $14.99 | $7.50 |
| | $29.99 | $17.99 |
| | $89.99 | $45.00 |
Steam (Sales end Nov. 29th, 2016)
| | | |
| --- | --- | --- |
| | $29.99 | $9.00 |
| | $19.99 | $6.00 |
| | $1.99 | $0.80 |
| | $1.99 | $0.80 |
| | $1.99 | $0.80 |
| | $1.99 | $0.80 |
| | $19.99 | $6.00 |
| | $19.99 | $15.99 |
| | $19.99 | $5.00 |
| | $24.99 | $12.50 |
| | $29.99 | $7.50 |
| | $39.99 | $10.00 |
| | $14.99 | $3.00 |
| | $19.99 | $4.00 |
| | $19.99 | $4.00 |
| | $24.99 | $5.00 |
| | $39.99 | $8.00 |
| | $19.99 | $10.00 |
| | $19.99 | $10.00 |
| | $39.99 | $18.40 |
| | $19.99 | $7.00 |
| | $19.99 | $7.00 |
| | $29.99 | $13.80 |
| | $29.99 | $7.50 |
| | $39.99 | $8.40 |
| | $29.99 | $6.90 |
| | $39.99 | $10.40 |
| | $5.99 | $0.78 |
| | $29.99 | $15.00 |
| | $29.99 | $6.00 |
| | $39.99 | $8.00 |
| | $29.99 | $15.00 |
| | $39.99 | $20.00 |
| | $59.99 | $30.00 |
| | $29.99 | $22.49 |
| | $89.99 | $53.99 |
| | $29.99 | $6.00 |
| | $59.99 | $15.60 |
| | $9.99 | $2.00 |
| | $9.99 | $2.00 |
| | $15.99 | $3.20 |
| | $9.99 | $2.00 |
| | $29.99 | $6.00 |
| | $14.99 | $4.50 |
| | $14.99 | $4.95 |
| | $14.99 | $4.95 |
| | $29.99 | $12.00 |
| | $14.99 | $7.50 |
EA Origin (Sales end Nov. 29th, 2016)
| | | |
| --- | --- | --- |
| | $29.99 | $12.00 |
| | $19.99 | $8.00 |
| | $29.99 | $12.00 |
| | $29.99 | $7.50 |
GreenMan Gaming (Sales end Nov. 29th, 2016)
| | | |
| --- | --- | --- |
| | $9.99 | $3.00 |
| | $19.99 | $15.99 |
| | $19.99 | $6.00 |
| | $19.99 | $6.00 |
| | $29.99 | $15.00 |
| | $24.99 | $12.50 |
| | $29.99 | $7.50 |
| | $29.99 | $17.99 |
| | $14.99 | $4.95 |
| | $14.99 | $4.95 |
| | $24.99 | $5.00 |
| | $14.99 | $7.50 |
| | $29.99 | $6.00 |
| | $19.99 | $10.00 |
| | $19.99 | $7.00 |
| | $19.99 | $7.00 |
| | $29.99 | $15.00 |
| | $29.99 | $7.50 |
| | $19.99 | $10.00 |
| | $39.99 | $20.79 |
| | $29.99 | $6.90 |
| | $29.99 | $15.00 |
| | $59.99 | $30.00 |
| | $89.99 | $45.00 |
| | $29.99 | $22.49 |
| | $14.99 | $4.50 |
| | $29.99 | $15.00 |
| | $29.99 | $15.00 |
| | $59.99 | $30.00 |
Gamers Gate (Sales end Nov. 28th, 2016)
| | | |
| --- | --- | --- |
| | $9.99 | $2.00 |
| | $9.99 | $3.00 |
| | $19.95 | $5.99 |
| | $29.99 | $15.00 |
| | $19.99 | $15.99 |
| | $24.99 | $12.50 |
| | $29.99 | $7.50 |
| | $29.99 | $15.00 |
| | $14.99 | $4.95 |
| | $14.99 | $4.95 |
| | $24.99 | $5.00 |
| | $19.99 | $4.00 |
| | $19.99 | $4.00 |
| | $14.99 | $7.50 |
| | $29.99 | $6.00 |
| | $19.99 | $10.00 |
| | $19.99 | $7.00 |
| | $19.99 | $7.00 |
| | $29.99 | $7.50 |
| | $19.99 | $10.00 |
| | $29.99 | $7.50 |
| | $5.99 | $0.78 |
| | $29.99 | $15.00 |
| | $59.99 | $30.00 |
| | $89.99 | $45.00 |
| | $29.99 | $22.49 |
| | $14.99 | $4.50 |
| | $29.99 | $15.00 |
| | $14.99 | $7.50 |
| | $29.99 | $15.00 |
| | $39.99 | $20.00 |
Ultra_Street_Fighter_II_is_coming_to_Nintendo_Switch