E. Honda, Lucia and Poison Coming to Street Fighter V: Arcade Edition on August 4th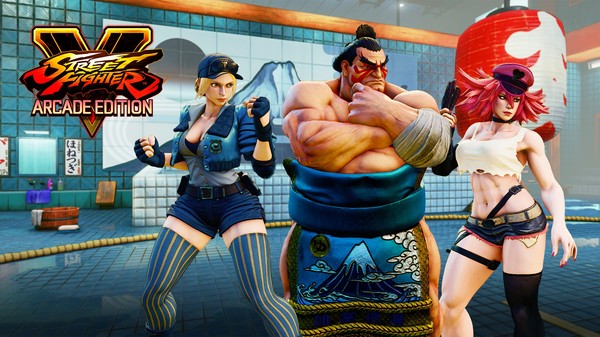 Three new characters are being added to Street Fighter V: Arcade Edition – pushing the impressive roster to 38 fighters. The sumo wrestling E. Honda completes the starting lineup from the original Street Fighter II. Lucia Morgan, a detective from the Special Crimes Unit of the Metro City Police Department, steps up to the plate with her thick Metro City accent and red-hot kicks. And last, but definitely not least, Poison of Final Fight fame brings her cracking whip and striking style to SFV: AE .
These three new challengers are being added to Street Fighter V: Arcade Edition and will be available on August 4 th individually for MSRP $5.99 / €5.99 / £4.99 or 100,000 Fight Money. A "Summer 2019 Character Bundle" will be made available on August 5 th for MSRP $14.99 / €14.99 / £11.99 and will include all three new characters, in addition to each character's Battle Costume and Default Colors 3-10.
Read on to get the full inside scoop.
E. Honda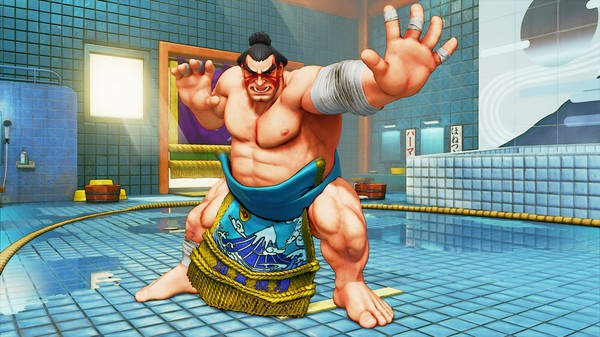 Wishing to educate the world on the long-term benefits of a relaxing soak in the tub, E. Honda is re-opening his popular bathhouse – Honda Sento. But as steadfast as his devotion is to all things hot and steamy, his number one passion will always be sumo wrestling. In this respect, Honda-san's transition to SFV: AE is comprehensive. His Hundred Hand Slap still requires a precise pianoing of punch presses (this time, four rather than five) to let loose with the open palm assault. His Sumo Headbutt still hits like a speeding bullet train, while being susceptible to projectile pressure. And his Oicho Throw still makes him dangerous up-close. But far from a relic of the past, Honda's formidable V-Skill and V-Triggers take his iconic fundamentals to the next level.
[V-Skill – Neko Damashi]
Honda's V-Skill is a heavy-handed clap that negates single-hit projectiles. It can cancel into his special moves on block and hit. V-Skill into light Hundred Hand Slap, for instance, is a true block string and leaves Honda at frame advantage.
[V-Trigger 1 – Onigawara]
His V-Trigger unlocks a more potent version of the Sumo Headbutt, called Oni-Daikaku. It can combo from any normal attack, has one hit of armor on start-up and can cancel into a second headbutt called Oni-Muso. Oni-Daikaku can also be used to guard crush the opponent on a full charge.
[V-Trigger 2 – Tajikarao]
Honda's V-Trigger 2 unlocks a running command grab with one hit of armor. The grab can hit raw or as part of a combo, with Honda slamming the opponent into the nearest corner, gaining frame advantage and removing the opponent's ability to perform a back recovery. This makes it a particularly strong tool for oki.
Lucia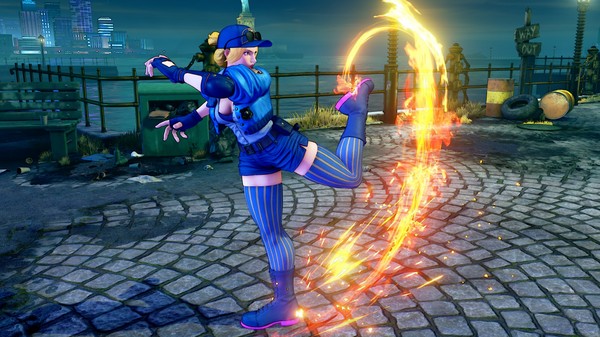 Having received a tip off from Haggar about a possible plot to take out Mayor Cody, Officer Morgan hits the streets of Metro City in search of answers. Her Gun Smoke command run lets her close the distance quickly with one of four follow-ups – the Rough Chase shoulder barge, Tornado Spinner juggle kicks, Cyclone Spinner anti-air and the Braking dead halt. She also has access to the Dragon Punch-style Hurricane Spinner, the Fire Spinner spinning back kick and flaming projectiles with unconventional flightpaths courtesy of Flipper Shot. All these specials are unsafe on-block unless timed meaty or spaced correctly, but thanks to her strong V-Triggers and a cancellable low forward that hits from afar, she has many ways to combo into them.
[V-Skill – Tap-Kick]
Lucia's V-Skill is a multi-hitting kick that can be cancelled from most of her normal attacks and leaves her at advantage on hit. You just need to be mindful that it's very unsafe on block.
[V-Trigger 1 – Burning Fight]
Her V-Trigger 1 enhances all her kick-based special moves, and when combined with her EX command run, can lead to some flashy and highly damaging combos. It also causes her V-Skill to score a knockdown on the final hit, leading to more oki opportunities.
[V-Trigger 2 – Weapon Fury]
Lucia's V-Trigger 2 equips her trusty baton and unlocks Tactical Weapon. This move can be cancelled from all her normal attacks, is safe on block and can combo into all her special moves. Suffice to say, it's tailor made for frame traps and extending combos.
Poison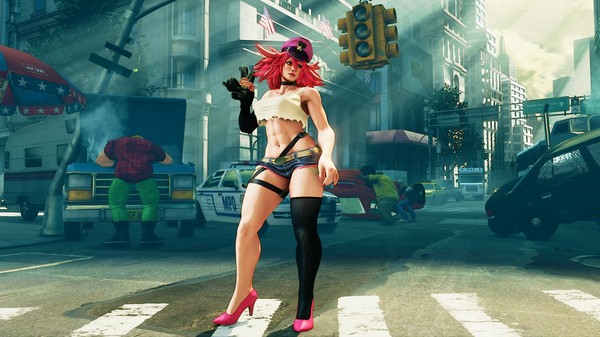 Feeling down in the dumps after parting ways with her former partner-in-crime, Poison returns to Metro City in search of a new headliner for the wrestling federation. She's received a whip upgrade compared to the short-range slapper she sported in Ultra Street Fighter 4 – this time she's wielding a looping lasher with lasso-like range. Gone are the rekkas and chargeable projectiles, which are replaced by a refreshing mix of far-reaching normals that are easily buffered into her high kicking and whip whirling specials. And we haven't even detailed her V-Skill and V-Triggers yet!
[V-Skill – Perfume Swing]
Poison's V-Skill is a swinging strike that can travel one of two distances. It can be cancelled from some of her normal attacks and allows for a follow-up strike. It can also travel over most projectiles if spaced correctly.
[V-Trigger 1 – Poison Cocktail]
Her V-Trigger 1 gives her access to Molotov cocktails. These can be thrown either straight up or ahead and cause steady chip damage by setting the ground on fire. They're useful for setups and combo extensions.
[V-Trigger 2 – Poison Glamor]
Poison's V-Trigger 2 unlocks two commands grabs – Toxic Hold and Toxic Bind. The former does more stun and damage, but has limited range. The latter can hit from over half a screen away, but has more start-up and recovery frames. Both can be used mid-combo.
"Honda Sento" Bathhouse Stage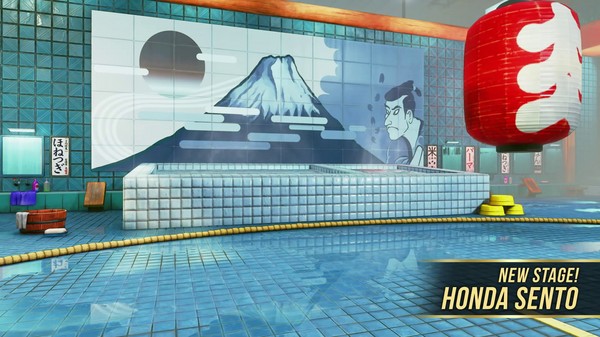 This stage should be instantly familiar to anyone who played Street Fighter II in the 90s. "Honda Sento" is a modern remake of E. Honda's iconic bathhouse stage from Street Fighter II: The World Warrior. Blue tiled flooring, individual showers and a sumo-sized onsen – filled to the brim with piping hot water from a nearby hot spring. What better place to kick back and relax with a towel on your head after a hard day of fighting in the streets. The new "Honda Sento" stage can be yours on August 4 th for MSRP $3.99 / €3.99 / £3.29 or 70,000 Fight Money.
Free Trial (Season 3 Character Unlock) and Sale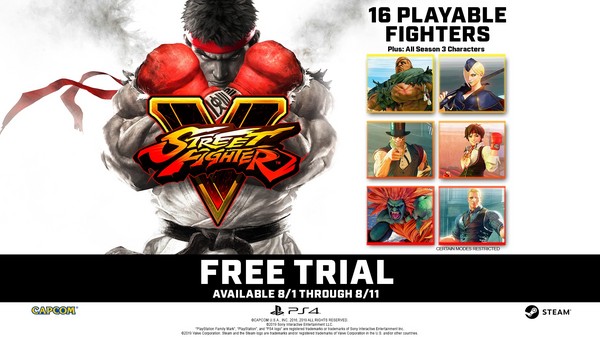 Haven't yet taken the time to pull off a Shoryuken or Hadoken in Street Fighter V? Well, why not try out the latest instalment in Capcom's premier fighting game series for FREE! An all-new Free Trial on PlayStation 4 and Steam runs now through August 11 th . And for the first time ever, the 16 characters from the launch roster are joined by the 6 characters from Season 3… all playable for free! By our count, that's 22 reasons to jump into the Free Trial and see what you've been missing! Sales on both platforms also run now through August 13 th , offering huge savings on in-game content in addition to 60% off Street Fighter V and 50% off Street Fighter V: Arcade Editio n.
Extra Battle: Cody (Vergil)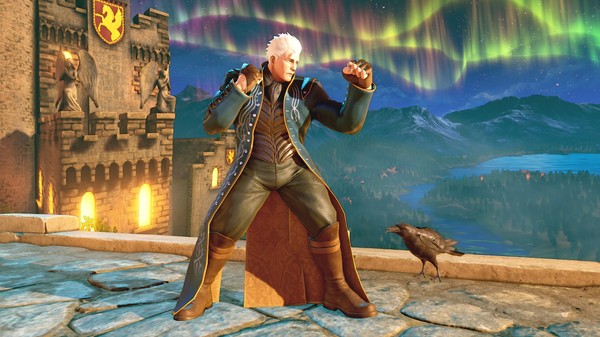 His opponents may cry when Cody goes to battle in this Vergil costume for SFV: AE. This Devil May Cry inspired costume for Cody and accompanying Vergil, Dante and Nero battle music will be available in Extra Battle mode from August 30 th through September 27 th.
Fighting Chance: M. Bison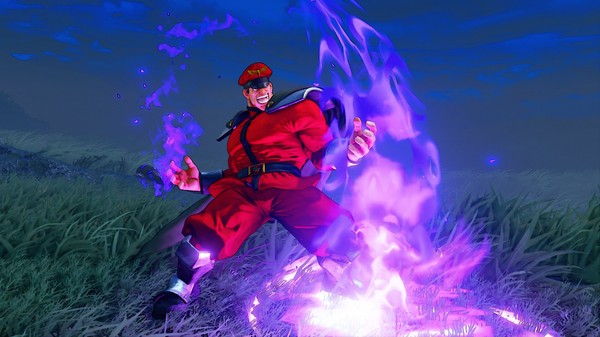 Backed up by the Psycho Drive in the Street Fighter Alpha series, M. Bison was not only at the peak of his power, but he also sported one of his most dominant looks. This menacing outfit returns to SFV: AE on August 4 th in Fighting Chance!
This is a sumo-sized update, so go hit the streets and enjoy all of this new content in Street Fighter V: Arcade Edition !
Street Fighter V: Arcade Edition Free Trial, Breath of Fire II Content, Sales and More!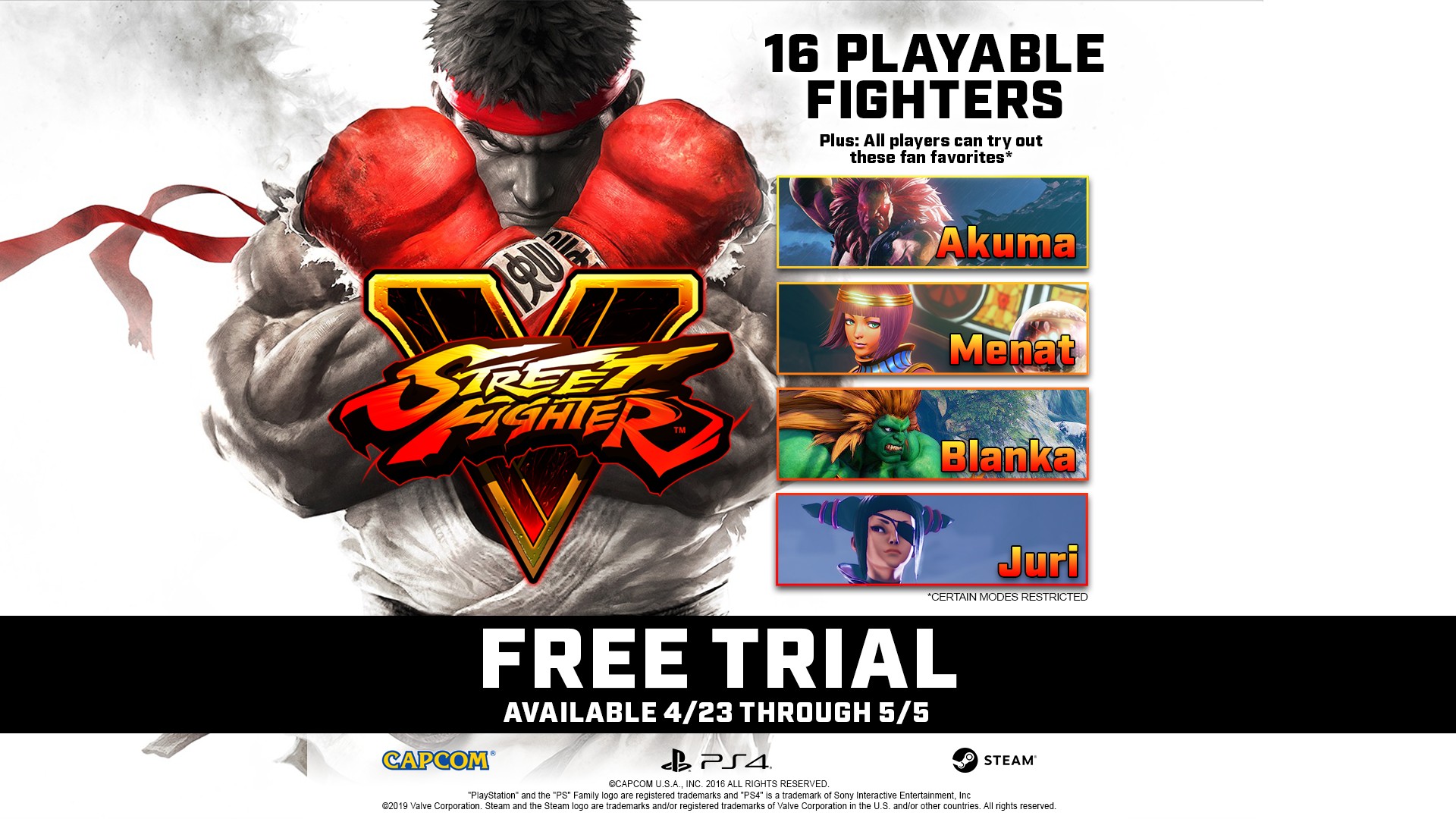 Curious about Street Fighter V but haven't gotten your feet wet yet? Well now is your chance as we're hosting a free trial, beginning April 23 at 1pm PT (download begins at 9am PT) / April 24 at 12am UTC and running through May 5 PT / May 6 at 5pm UTC. For the free trial on PlayStation 4, a PlayStation Plus subscription is not required to download and play offline, but it is required to play online. For PC users, the Steam client is required for the trial. All the initial content from the original Street Fighter V and the modes introduced in Street Fighter V: Arcade Edition are included for free during this time.
Click the "Try Free Demo" button on the left.
Scroll down and click "Play Game"
DLC Characters Unlocked – All 16 original characters included with the game are playable in the free trial, including classics like Ryu, Ken, Chun-Li, M. Bison and more! As a bonus, four fan-favorite DLC characters will be available for free during this trial: Akuma, Blanka, Juri and Menat! These four characters will only be available in Ranked, Casual, Battle Lounge, Training, and Challenges.
For those of you who already own Street Fighter V and Street Fighter V: Arcade Edition but have not yet acquired Akuma, Blanka, Juri or Menat, these four characters will be unlocked to you during the free trial period as well. If you decide to purchase any of these characters during the trial, you keep any progress made with each character.

Arcade – Introduced in Street Fighter V: Arcade Edition, this mode allows you to relive the past main entries in the series. If you're able to defeat all the computer-controlled opponents under various conditions, you can unlock over 200 unique illustrations from multiple artists which can be viewed in the Gallery.
Versus – Play against another local player or against the computer with different difficulty levels.
Challenges – Learn how to use each character in Demonstrations and Trials or see how long you can fight in Survival Mode.
Training – Practice against a dummy AI as you test out set-ups, combos and get used to a character without the pressure of a real match.
If you have friends or family who have always wanted to try Street Fighter V, let them know this is their chance!
In addition to the free trial, Capcom is offering discounts on popular Street Fighter V content, including all editions of the game, character passes and costume bundles at 30% to 70% off. Sale items include a 50% discount on Street Fighter V: Arcade Edition for $19.99, Character Passes from all three seasons are 50% off, the Original Characters Battle Costume Bundle is 70% for $8.99 and more!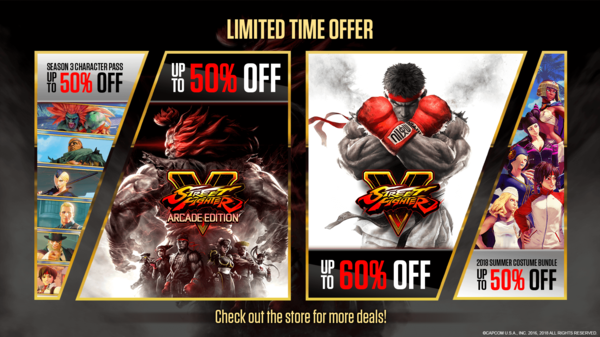 Check out the PlayStation , Steam and Capcom stores for the full list of sale items! The sale in North America will run April 23 thru May 6 for PlayStation 4, and thru May 5 for Steam players.
BREATH OF FIRE II EXTRA BATTLE CONTENT
What do Falke from Street Fighter V and Katt from Breath of Fire II have in common? From May 10 to June 7 in Extra Battle Mode, Capcom is teaming up these two heroines for a crossover costume featuring the beloved role-playing classic originally published in 1994. Both Falke and Katt expertly wield staves in battle, and both know guys named Ryu (different dudes) – what match could be more perfect?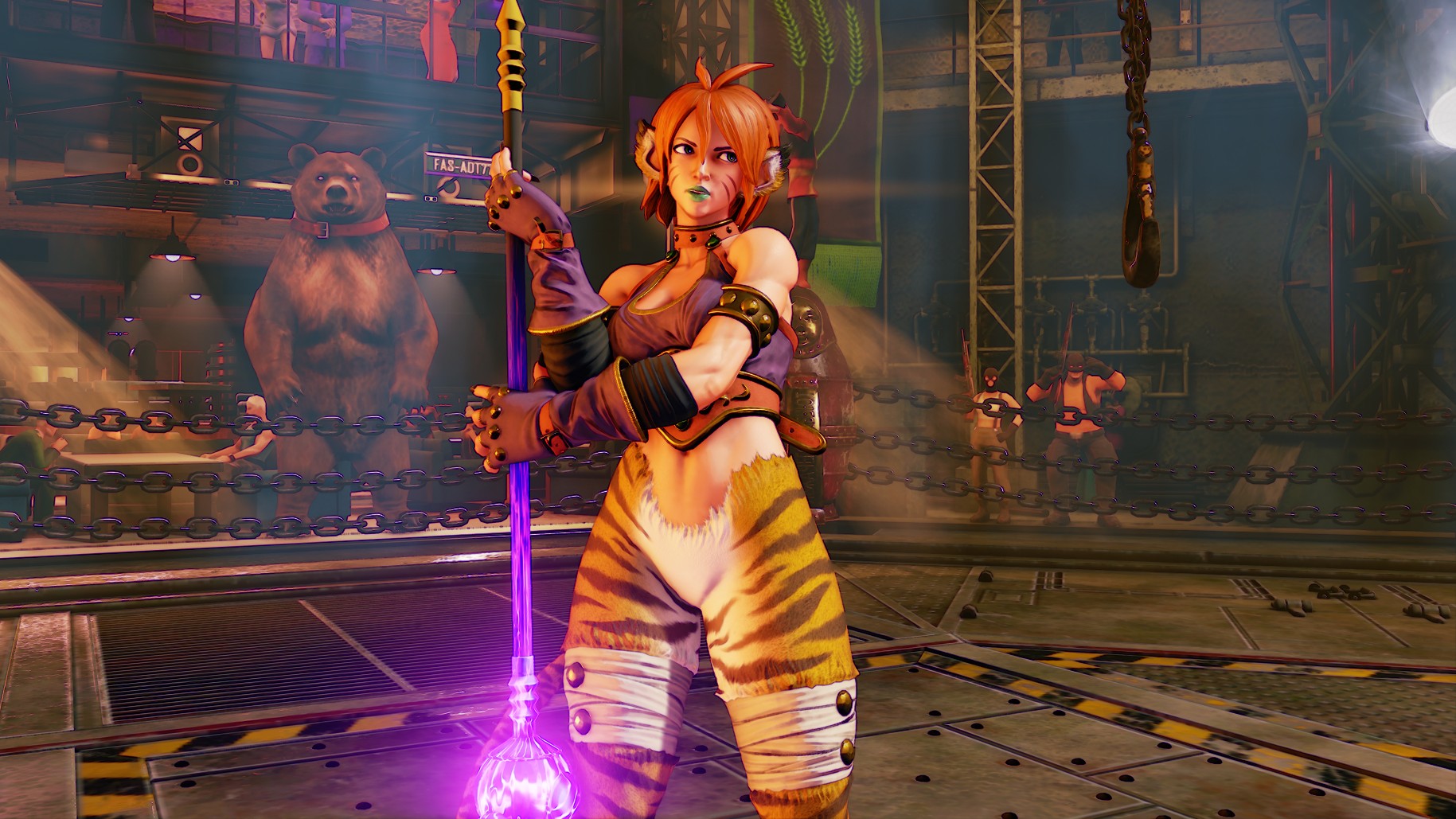 Additionally, you can obtain the Breath of Fire II background music during this time in Extra Battle Mode, which will also be available May 10 through June 7!

M. Bison's Classic costume returns to Fighting Chance
For those who missed out on M. Bison's more traditional look last November, obtain a Fantasy Fortune Reading and pay Menat a visit – you might just unlock M. Bison's Classic costume! Try your luck between April 23 and June 15 when M. Bison's Classic costume returns to Fighting Chance.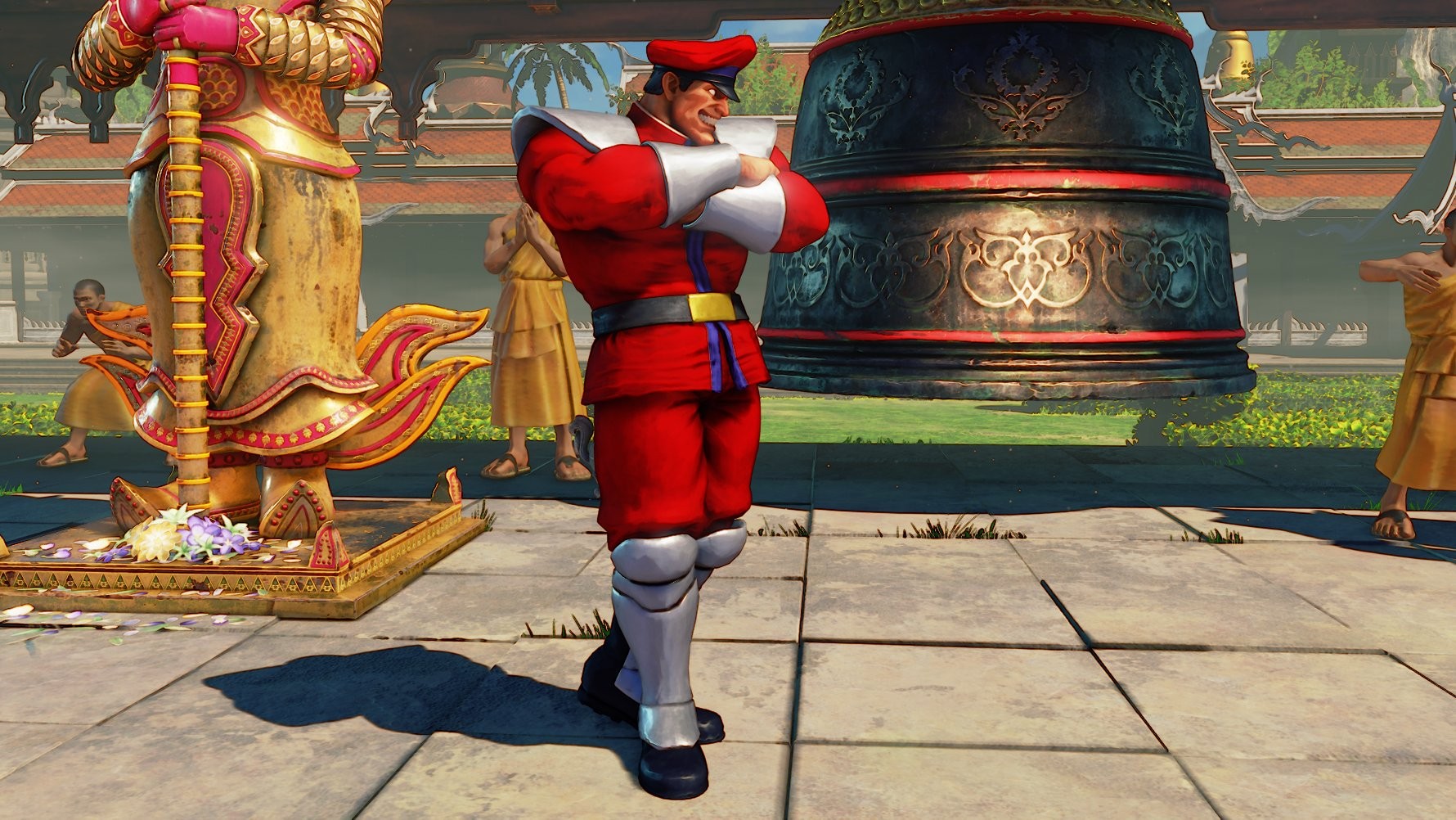 CAPCOM PRO TOUR DLC IS BACK!
In case you missed any of the 2016, 2017 or 2018 Capcom Pro Tour (CPT) DLC for Street Fighter V, don't fret! The bundles return on April 23 for the following prices:
2016 CPT DLC Bundle: $9.99
2017 CPT DLC Bundle: $14.99 (previously $24.99)
2018 CPT DLC Bundle: $14.99 (previously $19.99)
COSTUME BUNDLES
Capcom is also kicking off a sale of essential character bundles starting April 23 featuring some of Street Fighter V's most iconic characters. All of these prices and bundles are for North America. For sales happening in other regions, please see their respective channels.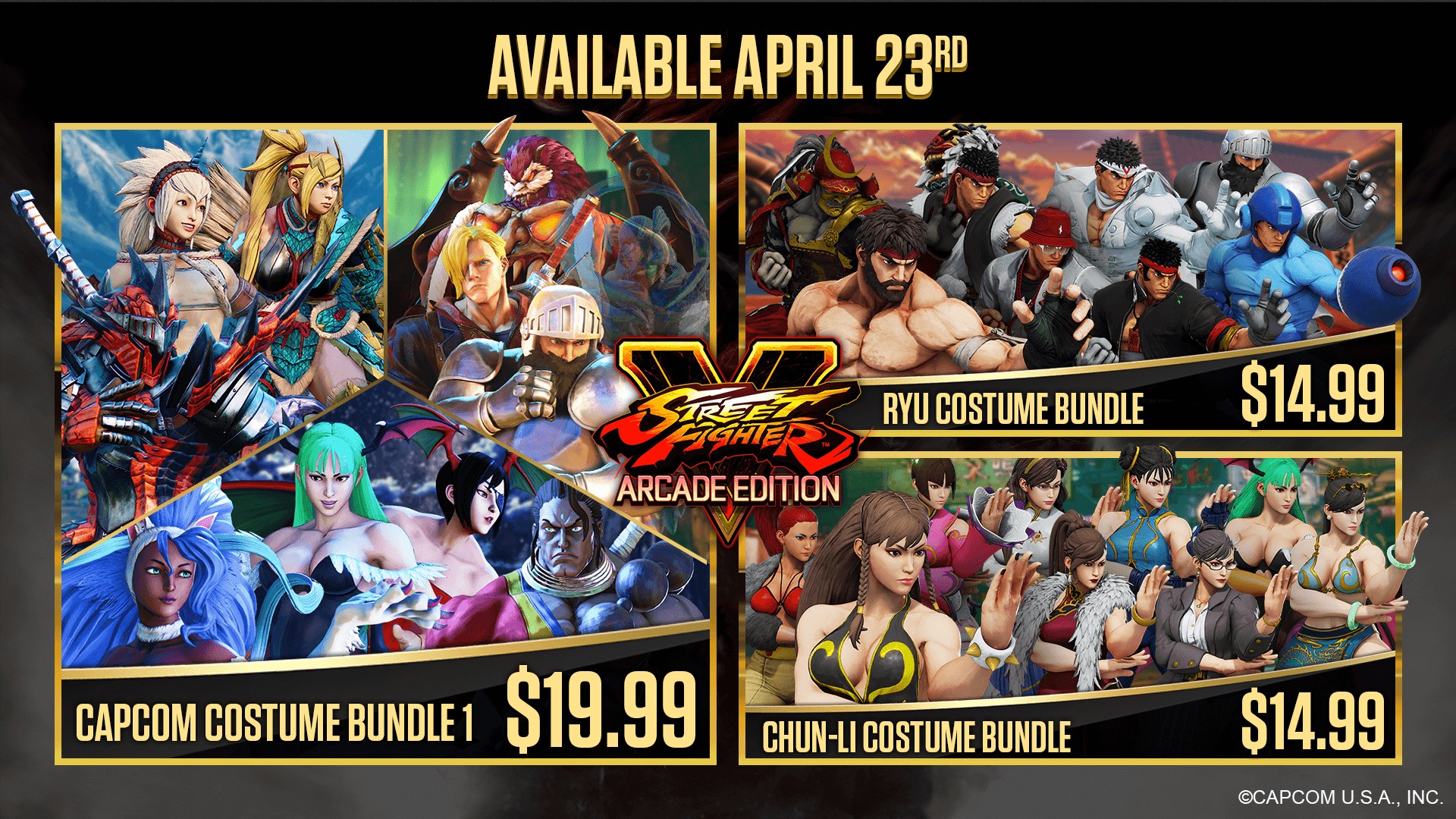 Ryu Bundle (8 costumes, $14.99)
Battle Outfit 1
Halloween
B-Boy
School Uniform
Capcom Pro Tour
Arthur
Mega Man
Jin Saotome
Costume Colors

Battle Outfit 1 (all colors)
Arthur (all colors)
Jin Saotome (all colors)
Chun-Li Bundle (9 costumes, $14.99)
Battle Outfit 1
Swimsuit
B-Girl
Capcom Pro Tour
School Uniform
Professional
Nostalgic
June
Morrigan
Costume Colors

Battle Outfit 1 (all colors)
June (all colors)
Capcom Costume Bundle (3 bundles, $19.99)
Monster Hunter Bundle
Devil May Cry and Ghosts 'n Goblins Bundle
Darkstalkers Bundle
The free trial for Street Fighter V: Arcade Edition is just ONE WEEK away, so plan accordingly and we'll meet you in the streets from April 23 thru May 5!
Capcom April Fools' 2019 Roundup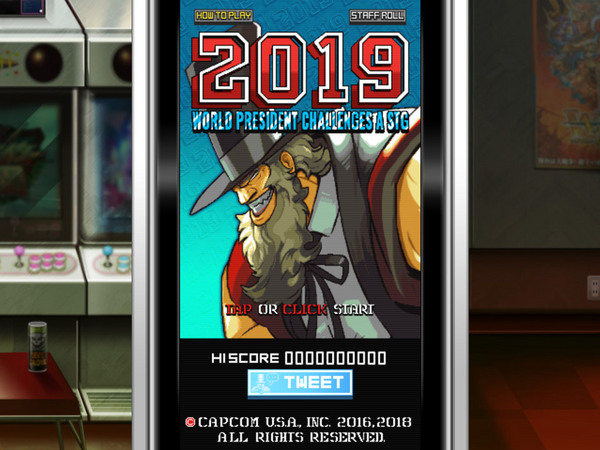 It's that time of year again, when you can't believe anything you read on the internet... okay, this time even more so than your average day: April 1st!
This year, our teams in Japan took some time to go all out on some pretty elaborate and surprising activities. They're not so much about deceiving you, but just having a fun time with our games.
You may have noticed these going live around 24 hours ago, so if you noticed any of these popping up on March 31st, just remember this for next year: Japan Standard Time is roughly 13 to 16 hours ahead of US time zones.
Street Fighter: World President Challenges a Shooting Game
In a classic throwback mini-game, but also a very fitting tie-in with the anime Hi Score Girl , you get to play a 1942 style shoot 'em up as G, President of the World.
If this description and the header image of this blog sounded and looked appealing to you, check it out here: game.capcom.com/cfn/sfv/aprilfool/2019
---
Resident Evil: Zombies Wanted
Okay, so contrary to what the website will tell you, we're not actually running out of zombies in the game... that's not how video games work. That said, the main stat shown up front is a real number! Since launch, Resident Evil 2 players have killed over 770 million zombies! :o
Anyways, check out the application page here, and make sure to apply and share your results: I got the Stunt Zombie job. game.capcom.com/CapcomDev1/aprilfool2019...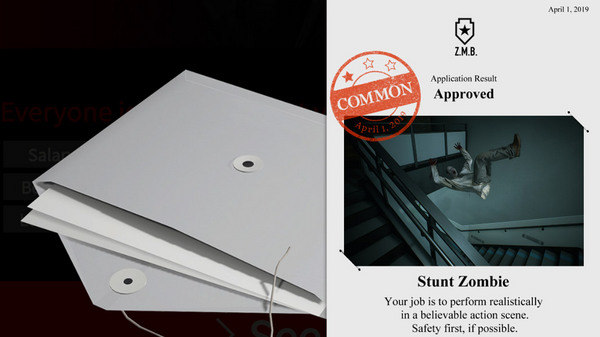 ---
Devil May Cry: Playable Empusa
The Trickster gang in the Devil May Cry team got together and tried to pull this fast one on us... I'll just leave you with the Tweet + video here so you can watch for yourself; just make sure to stick around till the end for the non-joke portion. twitter.com/dev1_official/status/1112511...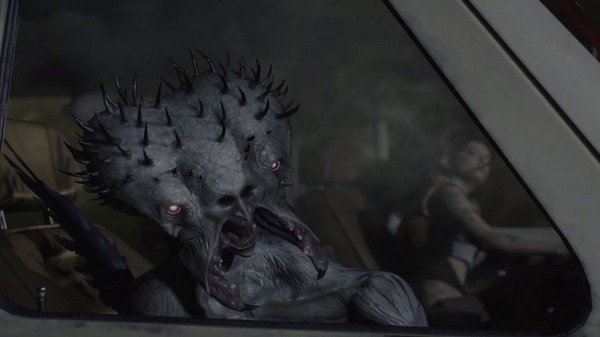 I kinda really want to play DMC5 as an empusa now....... T_T
---
Anyways, that's all we had in store for this year. Have fun!
CPT Kicks Off at Final Round This Weekend, Debuts New Theme Song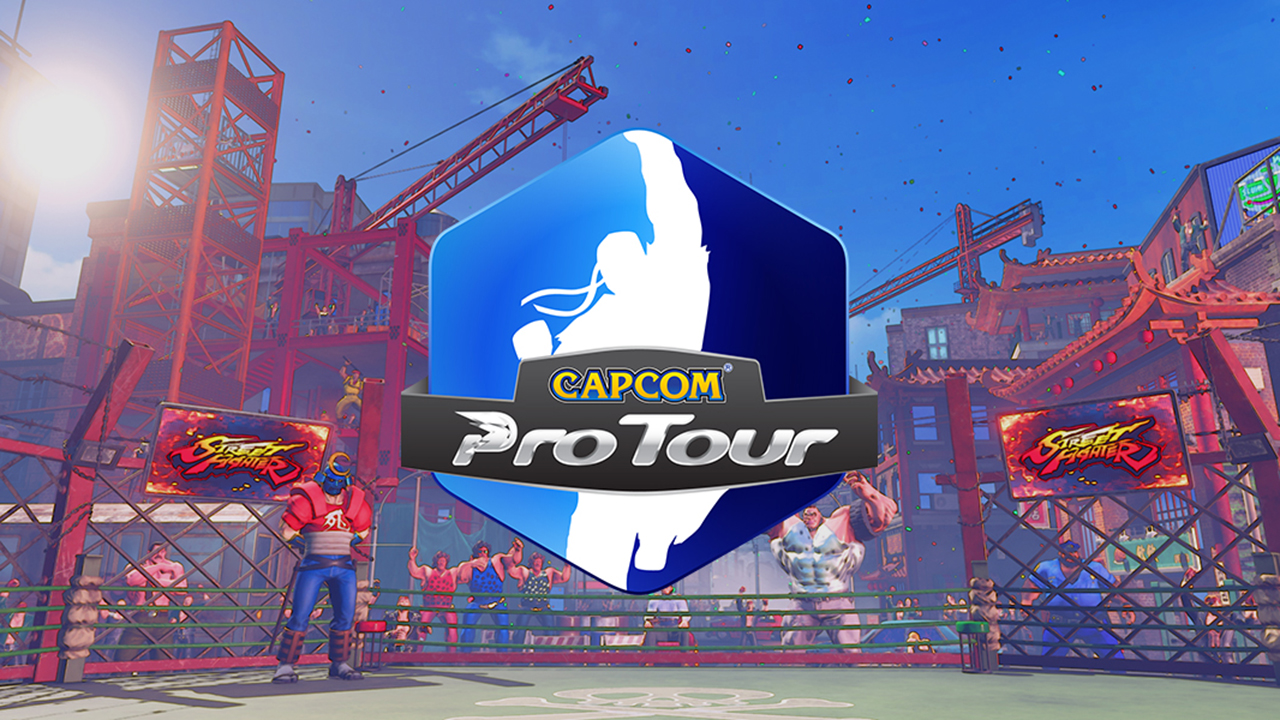 Hello Street Fighter fans. The 2019 Capcom Pro Tour season is ready to kick off this weekend with Final Round 2019 !
As a Premier Event, players from around the world will be flying in to Atlanta, Georgia to compete for up to 700 points on the Global Leaderboard for a 1st place finish.
In addition to the start of the season, featuring Street Fighter V: Arcade Edition, the CPT has new theme song called True Champion by music group PKCZ® appearing by courtesy of LDH Music & Publishing INC. debuting at Final Round. PKCZ, consisting of Exile Hiro, DJ Makidai, Verbal, DJ Daruma as its core members, creates new sound by mixing "true excitement and the sensation of indescribable cool." You might even recognize some of Exile Hiro's previous work on Street Fighter IV's Indestructible theme song.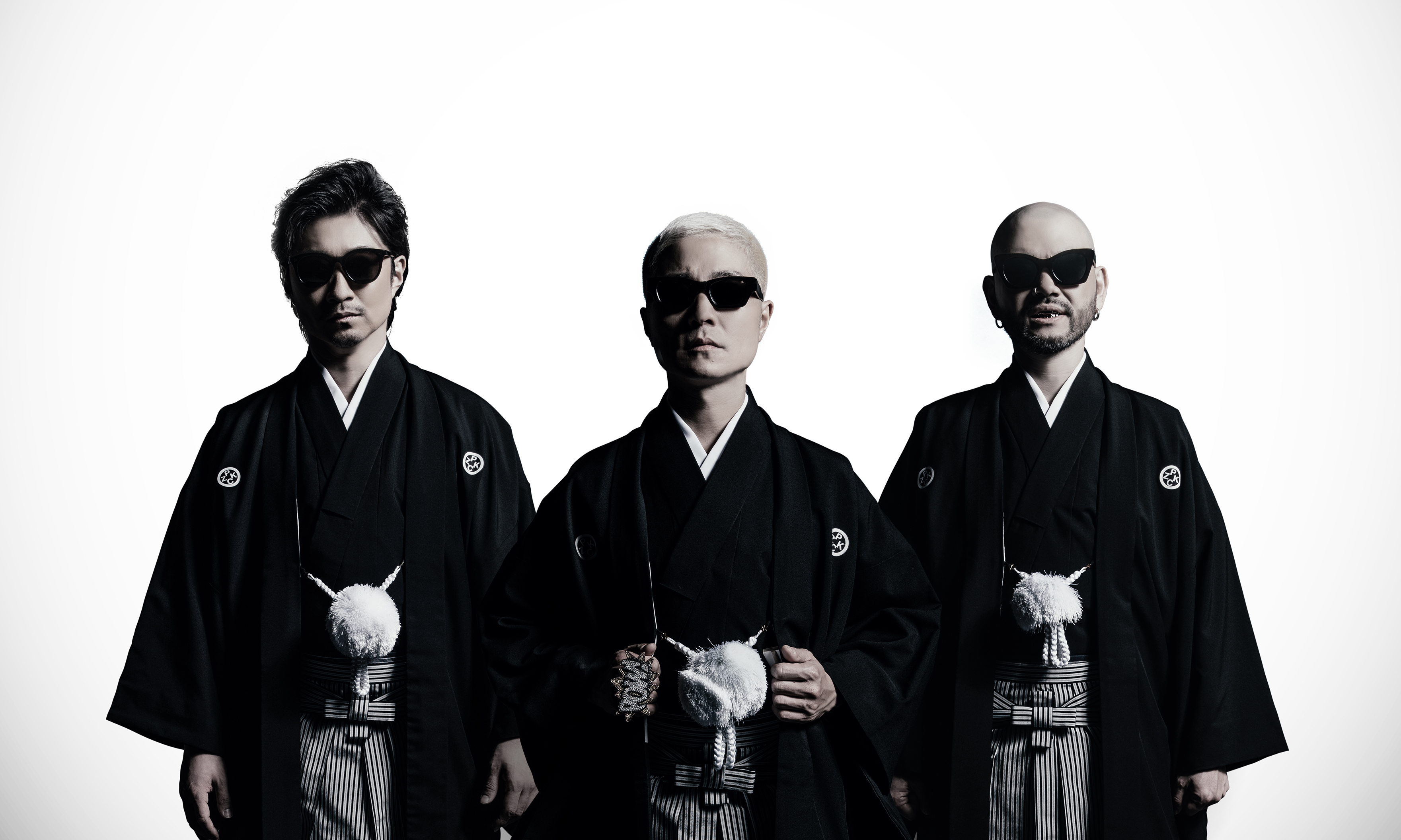 If you're at Final Round, you'll get to hear True Champion for the first time! For now, tune in to a sample of the track on Capcom Fighters YouTube .
Final Round always brings the hype and the level of competition will be off the charts. You won't want to miss a second of the action so tune in March 15-17 on the following channels:
Twitch.tv/CapcomFighters
YouTube.com/CapcomFighters
Facebook.com/StreetFighter
®
New Details On Street Fighter League: US-Pro 2019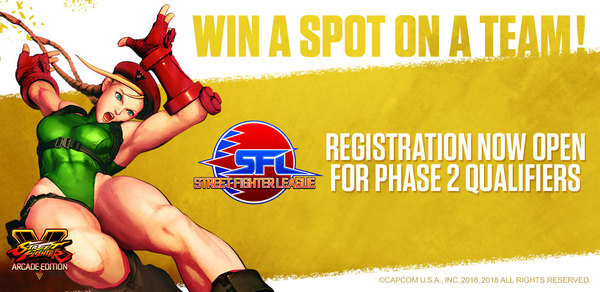 Hello Street Fighter fans. The Street Fighter League: US-Pro 2019 is officially in progress and we have some updates and new details to share with you!
First, allow us to congratulate the winners of the SFL Phase 1 East and West Coast Online Qualifiers – RobTV and UpToSnuff, respectively. By winning the Online Qualifiers, they've placed themselves in the draft pool for SFL 2019.
Phase 2 East and West Coast Online Qualifiers registrations are open right now. If you competed in the first phase, you're still eligible to play in the second and third phases. Take control of your destiny by registering on the SFL 2019 Smash.gg page and put yourself on an SFL team!
Now on to the actual tournament format of the SFL. As mentioned previously, the 2019 SFL is a 3v3 teams-based competition. Once the captains and players have been determined – via Online Qualifiers and the Community Vote (which we'll get to in a bit) – a draft will take place to form the six teams.
We've put together this handy infographic to visualize the process.

Six teams will compete in a double round robin elimination tournament until we have a winner. However, we're introducing something a little different to the competition than you're used to seeing in teams tournaments – the character ban.
Before each match, a team will have the choice of banning one character. Each team will then have to make a strategic decision to determine who will play what characters. Once the character selections are made, they are locked in and repeating characters will not be allowed.
The goal is to introduce a layer of team strategy into the competition rather than focus solely on the individuals.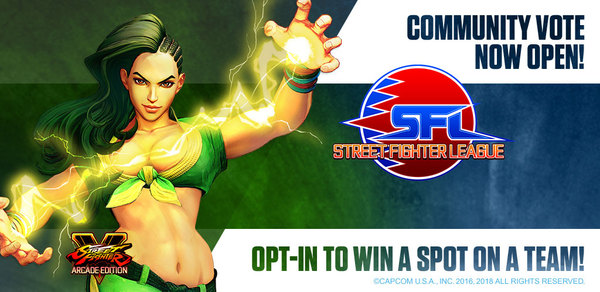 If you don't make it into SFL via Online Qualifiers, you still have a shot through the Community Vote. You can log into the official Smash.gg SFL Community Vote page and opt in right now. The opt-in phase lasts until Friday, March 15, 2019. At that time, the community can then vote on the players until March 17.
The six players with the most votes will win the final spots in SFL 2019 and be placed into the draft pool along with the Online Qualifiers.
That's it for now but we still have more info to share in the coming weeks so make sure you follow Capcom Fighters on Twitter and Facebook for updates on SFL 2019.
Gear up with a horde of new costumes on February 26 for Street Fighter V: Arcade Edition!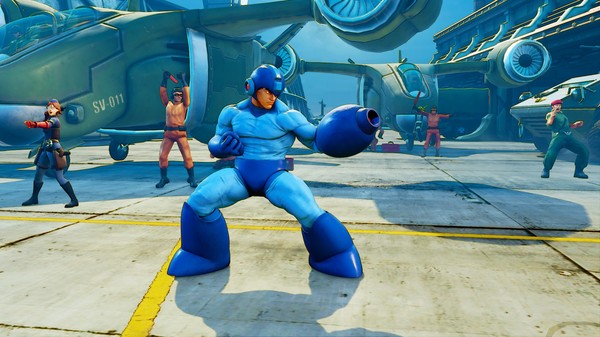 Ready? Slide into February with new costumes for Ryu, Sakura, Alex, and a certain wrestler from some of Capcom's iconic series!
Mega Man for Ryu (Mega Man) – Mega Man needs no introduction, as the Blue Bomber and hero of 20XX is just as iconic as Ryu. In fact, if you look really closely, a charged Mega Buster shot almost resembles a Hadoken, making this costume a perfect fit for Ryu! This costume is available for purchase for MSRP $3.99.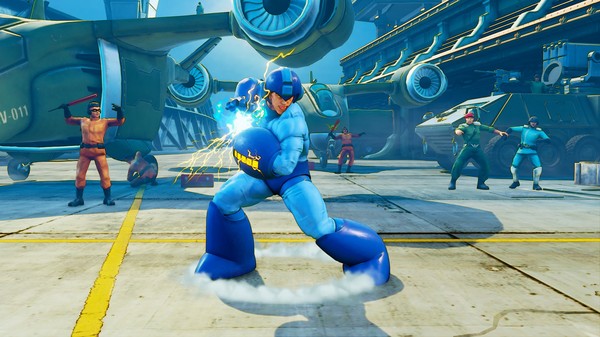 Roll for Sakura (Mega Man) – Those familiar with the Mega Man series are probably familiar with Roll, Mega Man's "little sister" and Dr. Light's assistant. In the Mega Man Legends games, Roll Caskett is a different character entirely – a genius mechanic and best friend of Mega Man Volnutt who's searching for a grand treasure. This costume is available for purchase for MSRP $3.99.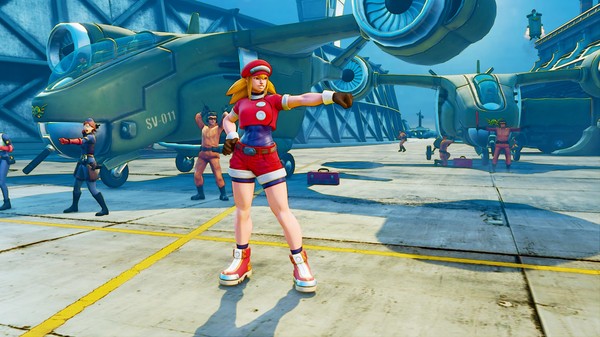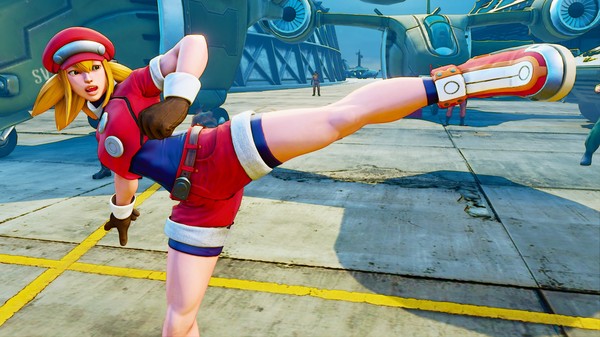 Leo for Alex (Red Earth) – Leo is one of four playable characters in Red Earth, a Capcom fighting game series first released in 1996. As the king of Greedia, Leo was cursed to become half-lion half-man by unknown invaders. He has now accepted his fate and holds this curse as a symbol of strength. This costume is available in Extra Battle Mode starting March 15! During this time, you can also obtain Leo's Theme to be used as background music.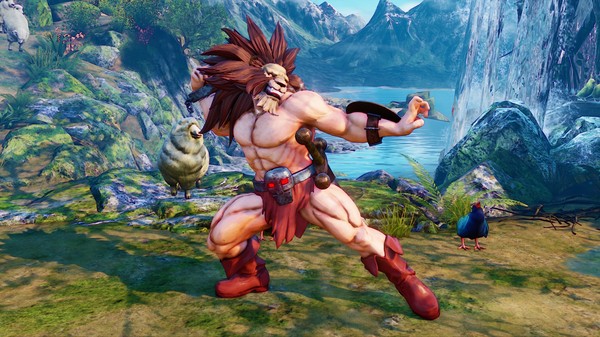 In addition to the ongoing Guts Man costume for Balrog in Extra Battle Mode, all four of the Mech costumes for Zangief, F.A.N.G, Juri, and Abigail have returned as of February 22!
The Gief – He wants to be a bit more humble and hide his true identity in the ring with a mask. But let's face it, it's not hard to figure out who's behind the mask. This costume is available in Fighting Chance on February 26!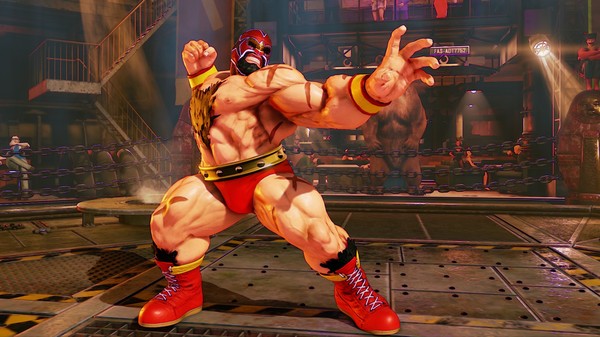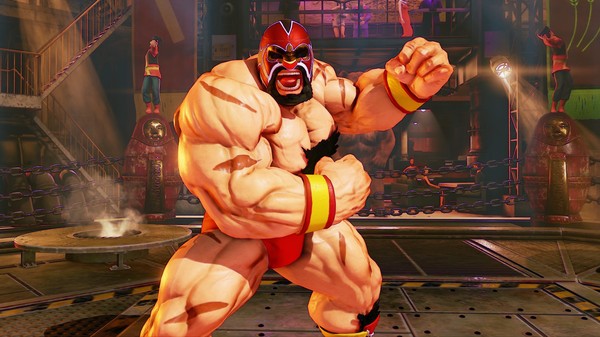 BUNDLES
Robot Bundle – Keep those circuits going, because we're putting the previous robotic-themed costumes from Extra Battle Mode into a shiny new bundle for a limited time. The Robot Bundle is available for $9.99 and includes Mech Zangief, Mech F.A.N.G, Mech Juri, Mech Abigail, the Jin Saotome costume, and the Cyberbots background music.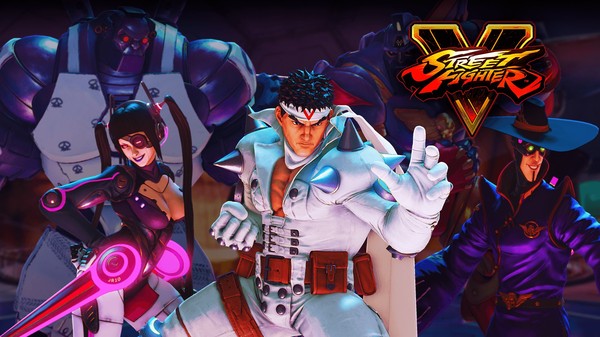 We hope you enjoy our technological celebration before spring rolls around!
UPDATES
The Ver. 4.021 update slated for release on Wednesday, February 27, 2019 implements design changes to improve operation stability for DirectInput USB controllers used with the Steam version of the game.
If your controller (primarily PlayStation®4 controllers, arcade sticks, etc.) employs DirectInput, launching STREET FIGHTER V after applying the above update will result in the loss of controller functionality.
After installing the 4.020 update, please adjust your settings as per the instructions at the link below in order to resolve the issue.
*Please note that Xinput controllers (Xbox 360 controllers, Xbox One controllers, etc.) do not experience this issue.
To learn how to update your settings, head here: game.capcom.com/cfn/sfv/systemfault/1327...
Street Fighter League Online Qualifiers Registration Open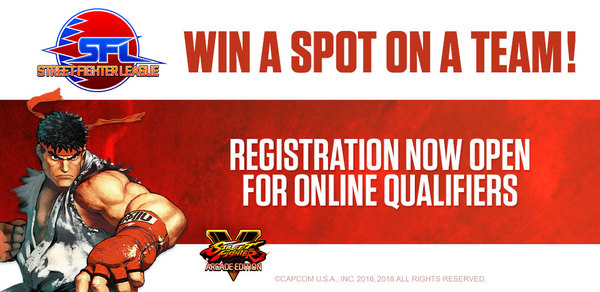 Prospective pro Street Fighter V: Arcade Edition players, the time has come to prove you belong in the upcoming Street Fighter League: US-Pro 2019 (SFL)!
Recently, we introduced the new 3v3 teams league and while we're finalizing our team captains, we're ready to roll out the next phase of the first season.
Six total winners (one from each online tournament) will qualify for SFL's first draft. In addition to the team captains, we'll be holding a community vote for the final six players going into the draft. Check back here for more details on both the voting and draft process soon.
The SFL Online Qualifiers format will be double elimination and best 2-out-of-3 format up to Top 8, and best 3-out-of-5 through Top 8. Each weekend will feature an Online Qualifier event for East and West Coast regions, respectively, with a player cap of 256.
Online qualifiers are broken down into three phases:
Phase 1 will begin with the West Coast qualifier on March 1, 2019 and the East Coast qualifier on March 2, 2019.
Phase 2 West Coast qualifier takes place on March 8 and the East Coast qualifier on March 9.
Finally, Phase 3 concludes with the West Coast qualifier on March 15 and East Coast qualifier on March 16.
Players who want to compete in the SFL Online Qualifiers can visit the Smash.gg page and register now!
No purchase is necessary and you must be a U.S. citizen and be at 16 years or older to compete. Players will be able to enter multiple events once the registration opens upon the conclusion of the weekend's tournaments. Read more about the rules and regulations for the online qualifiers on the Smash.gg page .
Stay tuned as we have more information coming on the SFL!
Capcom Pro Tour 2019 Full Schedule and Details Reveal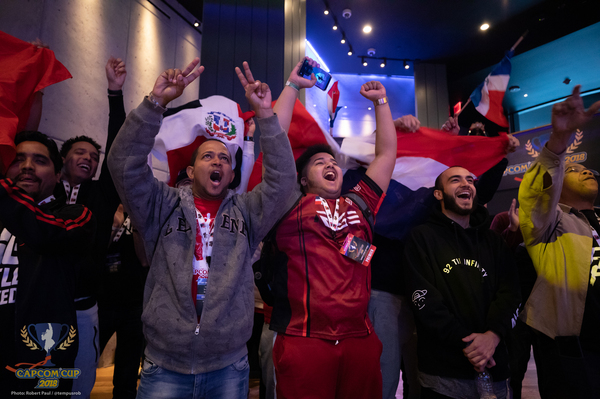 Hello World Warriors. As we confirmed at Capcom Cup in December, Capcom Pro Tour (CPT) is coming back for a brand new season. We're gearing up for another exciting season featuring Street Fighter veterans and up-and-coming new players as they battle to become the world champion.
To help get CPT competitors and community ready for the 2019 season, we have a lot of new details to share with you today, including the schedule , beginning with Final Round in Atlanta, GA March 15-17 format changes for 2019, and new events!
Street Fighter V: Arcade Edition ( SFV:AE ) will once again be the focus of CPT 2019. Players will compete for a total prize pool worth over $600,000.
We've also taken a lot of community feedback into consideration and we've made some big changes for 2019. Read on for the full details and be sure to follow Capcom Fighters on Twitter , Facebook , and Instagram for all the latest updates on the Capcom Pro Tour.
How to Qualify for Capcom Cup 2019
Thirty-two of the best SFV:AE players from around the world will compete for the Capcom Cup. These players will secure their places at Capcom Cup 2019 by competing in Capcom Pro Tour events throughout the year.
We've made some modifications to the rules this year in an effort to make competition more accessible. Below are the ways players can qualify for Capcom Cup 2019.
The Capcom Cup 2018 Champion Returns
As the reigning Capcom Cup champion, Gachikun will earn an automatic qualifying spot into Capcom Cup 2019. The Capcom Cup champion will need to compete throughout the season for seeding purposes at the CPT finale.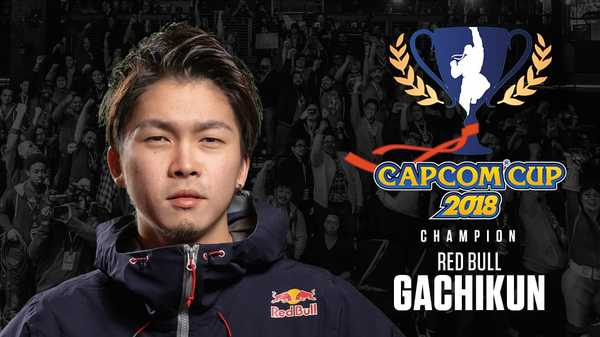 Qualify Through the Capcom Pro Tour Leaderboard
You might notice there is a new Super Premier tier of events in addition to the Capcom Pro Tour 2019 Premier and Ranking Events. Points earned in these events go towards a player's Global Leaderboard standing. At the end of the year, we'll be taking the top 26 players from the Global Leaderboard and Regional Finalists to fill out qualifying spots in Capcom Cup 2019. Players and fans can see who is in the running for Capcom Cup at any time by going to the CPT Leaderboards on the Capcom Fighters web site.
Win the Capcom Cup 2019 Last Chance Qualifier
The Last Chance Qualifier will return for Capcom Cup 2019 and will be open to anyone who wants to compete and is not already qualified for the finals, regardless of which region he or she is from. The winner of this tournament will be the last player to qualify for Capcom Cup 2019.
We've adjusted the CPT point values this year with the addition of the Super Premier Events and based on feedback regarding Ranking Events.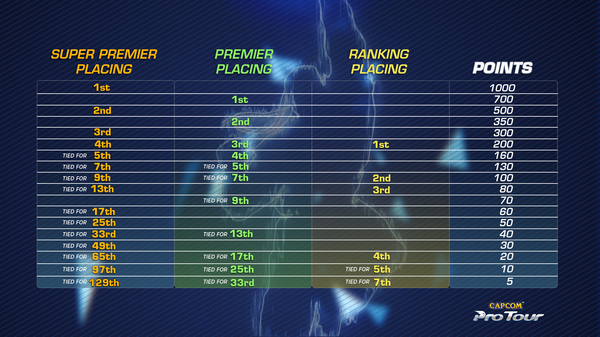 Capcom Pro Tour Event Season
So what's different about the CPT structure in 2019?
Introducing Super Premier Events
As mentioned, there is the Super Premier Events tier. These events are limited to three specific tour stops – Evo 2019, Japan Premier (venue/location TBD), and North American Regional Final (venue/location TBD). The point values and prize pools will be higher than the standard Premier Event (for NA Regional Finals, this would apply to the open tournament). Winners of these events will have the greatest chance to qualify for Capcom Cup 2019 through the CPT Leaderboard.
Premier Events Structure
2019 will feature 11 Premier Events across the four regions (North America, Europe, Asia, and Latin America and four Regional Finals. Looking at the schedule, you can see the biggest difference for 2019 is the return of a Premier Event in LATAM with Game Over and First Attack taking over as the LATAM Regional Final.
CPT Premier Event point values largely remain the same, meaning players who win a Premier Event will still have a great chance at qualifying for Capcom Cup 2019.
Ranking Events Structure
In 2018, we reduced the point values and spread among players for Ranking Events. We received a lot of feedback and have determined that those values needed to be readjusted for 2019. You will see an increase in the amount of points and the overall spread among players.
Online Ranking Events Structure
The overall number of Online Ranking Events is less in 2019 but we have redistributed some of the events for better coverage across certain regions and have added new events as a way to represent certain regions that were not able to compete online in the past, such as Australia and Middle East. See the schedule for event dates. We'll have more information about region breakdowns and registration in a future update.
Regional Finals Structure
2018's Regional Finals format was confusing to players and fans and we've attempted to simplify that. All Regional Finals will continue to have an open tournament where players can earn CPT Global Points as a way to qualify for Capcom Cup. However, the open tournament will no longer award CPT Ranking Points. There will still be a Regional Finals Top 8 awarding a qualifying spot to the player from that region.
Asia, Europe, LATAM will award the same points values as a Premier Event. NA Regional Finals is a Super Premier Event, and will award the appropriate points values.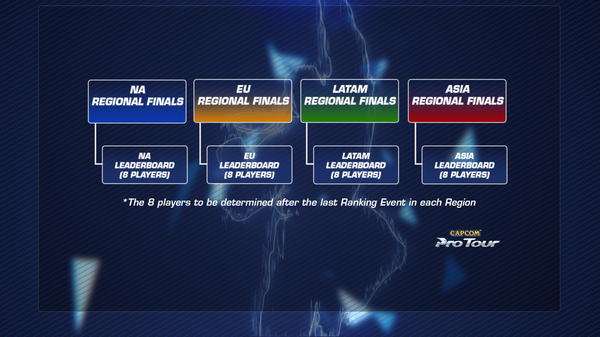 Tournament Schedule
Below is a list of events for Capcom Pro Tour 2019. This is an in-progress schedule and we will update further once some event details are finalized. Please see each event's website or social media accounts for up-to-date venue, registration, or any other additional information. Once again, you can follow Capcom Fighters on Facebook , Instagram , and Twitter and visit the official Capcom Pro Tour site for event updates!
SUPER PREMIER EVENTS
EVO CHAMPIONSHIP SERIES - Las Vegas, NV, August 2-4
JAPAN PREMIER - Japan, TBD
NA REGIONAL FINALS - TBD
GLOBAL PREMIER EVENTS
FINAL ROUND 2019 - Atlanta, GA, March 15-17
NORCAL REGIONALS 2019 - San Jose, CA, March 29-31
THE MIXUP - Lyon, France, April 20-21
COMBO BREAKER - Chicago, IL, May 24-26
TAIPEI MAJOR - Taipei, Taiwan, June 8-9
CEO 2019 - Daytona Beach, FL, June 28 - June 30
GAME OVER - Santo Domingo, Dominican Republic, July 6-7
VSFIGHTING 2019 - Birmingham, UK, July 20-21
ESPORTS FESTIVAL HONG KONG 2019 - Hong Kong, August 24-25
CELTIC THROWDOWN 2019 - Dublin, Ireland, August 31 - September 1
FINAL FIGHTERS CHINA - China, September 7-8
ASIA REGIONAL FINAL - SEAM - Singapore, October 12-13
EU REGIONAL FINAL - EGX 2019 - London, UK, October 18-20
LATAM REGIONAL FINAL - FIRST ATTACK - San Juan, Puerto Rico, October 26-27
CANADA CUP 2019 - TBD, Canada, November 1-3
NORTH AMERICA RANKING EVENTS
APRIL ANNIHILATION - Philadelphia, PA, April 12-14
NORTHWEST MAJORS - Seattle, WA, April 26-28
TEXAS SHOWDOWN - Houston, TX, May 10-12
DREAMHACK DALLAS - Dallas, TX, May 31 - June 2
TORYUKEN - Toronto, Canada, July 13-14
DEFEND THE NORTH 2019 - Manhattan, New York, July 19-21
EAST COAST THROWDOWN - New Jersey, October 18-20
ASIA RANKING EVENTS
FV X SEA MAJOR - Malaysia, March 23-24
FIGHTER'S SPIRIT - South Korea, April 21-22
VERSUS MASTERS - Singapore, April 27-28
SAIGON CUP – Saigon, Vietnam, May 11-12
BATTLE ARENA MELBOURNE - Melbourne, Australia, May 17-19
THAIGER UPPERCUT X SEA MAJOR THAILAND 2019 - Bangkok, Thailand, June 22-23
EUROPE RANKING EVENTS
BRUSSELS CHALLENGE - Belgium, April 5-7
HEADSTOMPER - Malmö, Sweden, May 3-5
DANGER ZONE - London, UK, June 15-16
SONIC BOOM 2019 - Madrid, Spain, July 13-14
FIGHT CLUB - Cologne, Germany, August 17-18
ULTIMATE FIGHTING ARENA 2019 - Paris, France, September 27-29
LATIN AMERICA RANKING EVENTS
THE FIGHT - Colombia, June 22-23
FIGHT IN RIO - Rio de Janeiro, Brazil, July 13-14
NEVER GIVE UP - Santiago, Chile, August 31 - September 1
TRETA - Curitiba, Brazil, September 7-8
THUNDERSTRUCK - Monterrey, Mexico, September 14-15
FIGHTING FEST - Santo Domingo, Dominican Republic, September 28-29
FURIA TICA - San Jose, Costa Rica, October 5-6
ONLINE RANKING EVENTS
ASIA SOUTHEAST - April 6
NORTH AMERICA WEST - April 20
LATIN AMERICA WEST - May 18
MIDDLE EAST (EU REGION) - June 1
AUSTRALIA (ASIA REGION) - June 1
EUROPE EAST - June 8
LATIN AMERICA SOUTH - June 29
EUROPE WEST - July 27
LATIN AMERICA EAST - August 10
ASIA EAST - August 17
NORTH AMERICA EAST - September 28
CAPCOM CUP 2019 - TBD
Street Fighter Pro League Comes to US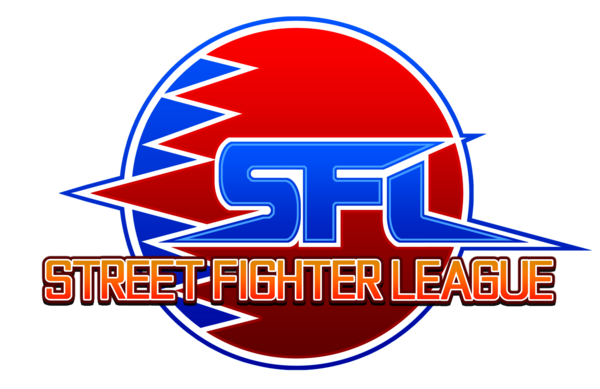 Hello Street Fighter fans!
We're excited to reveal a brand new Street Fighter esports tournament for 2019: the Street Fighter Pro League - USA, a new teams-based series featuring a mix of seasoned pros, newcomers, and fan favorite players battling it out in Street Fighter V: Arcade Edition.
Street Fighter Pro League presents a unique opportunity to compete in a new 3-on-3 tournament series outside of the Capcom Pro Tour (CPT). We want to provide a fresh take on the format by adding new layers of strategy and drama and we hope fans will enjoy the series. We'll be paying close attention to fan feedback to incorporate it into future seasons of the League.
As we announced at Capcom Cup 2018, CPT will return for 2019 so fans can continue to expect the best high level Street Fighter V: Arcade Edition singles competition.
How the North American Street Fighter Pro League will work:
Six teams comprised of three players each will compete over the course of two seasons to determine who will take home the first North America Pro League Championship. Each team will include a captain chosen from the top ranked players from the CPT 2018 North American leaderboards .
Online qualifiers will be held to fill the second slot of each team, with the third slot comprised of players voted in by the community. At the beginning of each season, captains will draft players to their teams and they'll need to consider who they pick wisely to create the winning combination because the format of the League will be slightly different than traditional Street Fighter teams tournaments.
The League will introduce a "character ban" feature. At the start of each match, teams will have the opportunity to ban one character for the entirety of the match. Players must also choose different characters from their teammates for the duration of the match. The goal is for the teams to strategize the matchups in and out of game by working more closely as a team, especially if the best player may not necessarily get to play their best character exclusively.
Kicking things off
The first season is expected to begin in April 2019 with tournaments airing every Thursday through May. The finale will take place in June. The top two teams from season one will roll into season two.
The second season kicks off with the Draft in the Fall and runs through November, culminating in the first North American Pro League Champion.
Keep an eye out on details for the online qualifiers and community vote-in process in the coming weeks here, and follow us on Twitter and Facebook for updates on the Street Fighter Pro League.
Kage, the Embodiment of the Satsui, has Arisen in Street Fighter V: Arcade Edition!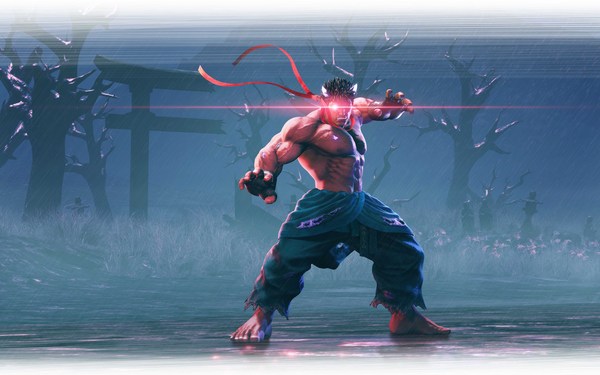 Capcom Cup 2018 is now complete with the spotlight being shifted to the future. But with every light comes a shadow. Kage, the Embodiment of the Satsui, rises as the newest character and the beginning of the next season in Street Fighter V: Arcade Edition !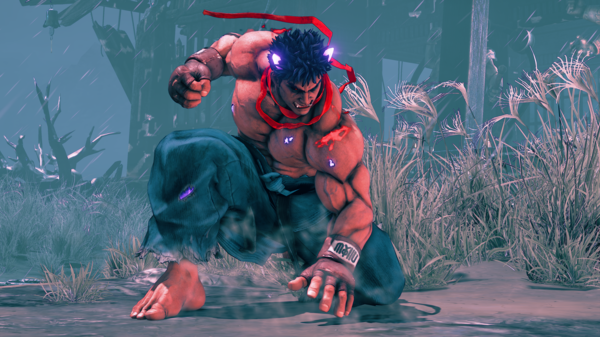 The Satsui no Hado is a dark force tied to the more sinister aspects of the human soul, including the hunger to survive, destroy, and conquer. Those who learn to control it become nearly unstoppable, but at the cost of their humanity. Akuma is one of these beings. In the past, Ryu was constantly struggling with keeping the Satsui no Hado at bay. If he was hypothetically unable to control it, Evil Ryu would manifest and bring a dark obsession to the otherwise peaceful Ryu. However, after the events of Street Fighter V: Arcade Edition, Ryu was able to overcome the Satsui no Hado's temptation to ensure Evil Ryu would never see the light.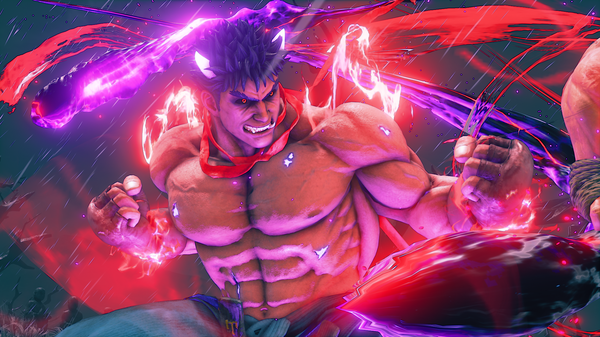 However, the Satsui no Hado living within Ryu became sentient and would rise as the entity known as Kage, meaning "shadow" in Japanese. Kage lives to prove Ryu is nothing without him and seeks to challenge Akuma and Sagat, two of Ryu's most notorious rivals. Will Ryu succumb to Kage's schemes?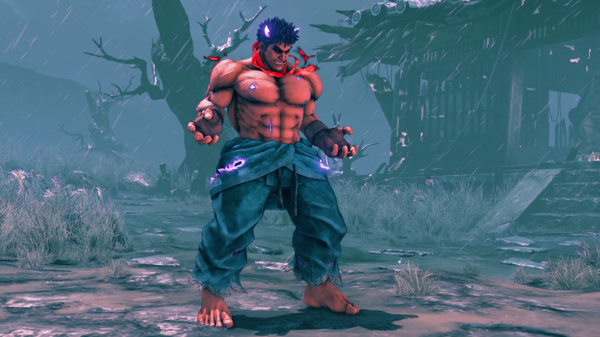 Kage's move set may resemble Evil Ryu's, but the embodiment of the Satsui no Hado has his own twist on the abilities you may be expecting.
Hadoken – Kage's Hadoken sees him emitting energy from his palm, but doesn't create a traditional fireball, at least in the grounded version. The airborne version of Hadoken emits a fireball horizontally in the air.
Shakunetsu Hadoken – Similar to Akuma's "red fireball," Kage gathers energy in both fists and sends the projectile full screen.
Shoryuken – Kage wouldn't come from Ryu if he didn't have this iconic move!
Kurekijin – Kage jumps off the ground and rotates only once to deliver a single kick. Kurekijin can also be used in the air.
Ryusokyaku – Similar to Evil Ryu's "Axe Kick" where he lifts his leg in an arcing motion and slams it down on the ground.
V-Skill: Senha Kassatsu – Kage gathers energy into his fist and lunges forward to punch the opponent. Senha Kassatsu has armor and can be charged for a more devastating blow.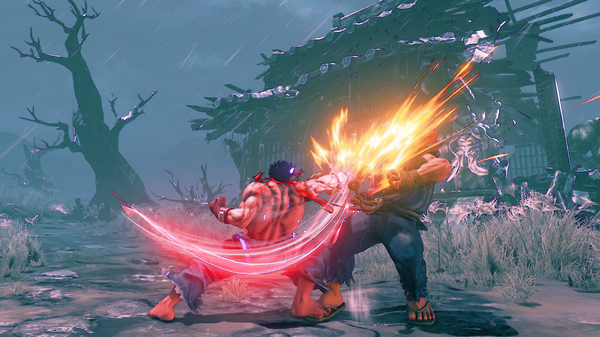 V-Trigger I: Taigyaku Mudo – In this two-bar V-Trigger, Kage unlocks Ashura Senku, a teleport move that is performed by pressing HP+HK. Ashura Senku can be used on the ground and in the air as an air dash, which opens up multiple mix-up options and flashy combos. Taigyaku Mudo also improves Kage's V-Skill so that he can now combo into it while the fully charged version will crumple the opponent.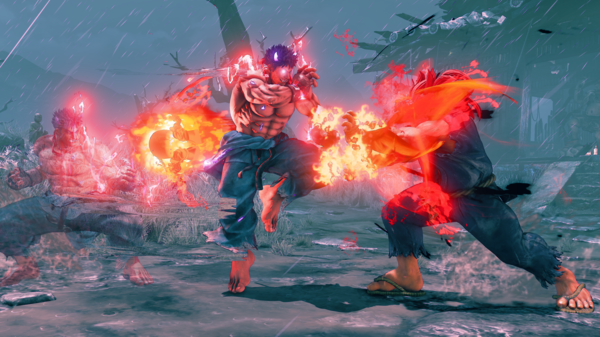 V-Trigger II: Rikudo Osatsu – In this three-bar V-Trigger, Kage unlocks Misogi, a move that sends him into the skies before crashing down on the opponent by pressing HP+HK. Misogi can be cancelled into by a number of normal and specials, including blocked sweeps, which makes it a pressure monster.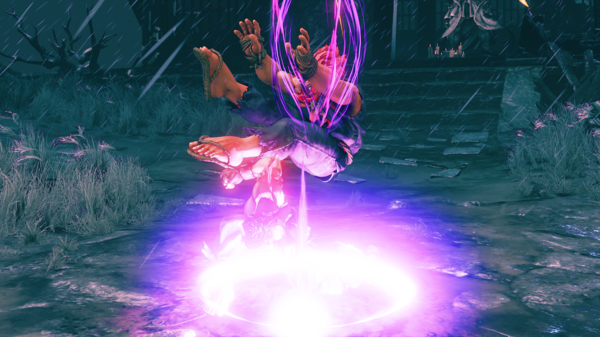 Critical Arts:
Metsu Shoryuken – Ryu's iconic super from previous games lets everyone know that Kage is indeed a part of Ryu. Kage does a devastating upper cut that ends in a flash full of red.
Shun Goku Satsu (V-Trigger II only) – Kage wouldn't be the Satsui no Hado without having the Shun Goku Satsu! While only available in V-Trigger II, Kage's version of the Raging Demon can be used to end particular combos with his signature red gracing the screen afterwards.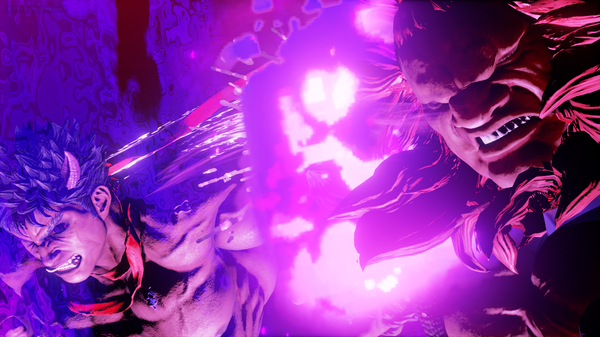 Kage's Story Costume resembles a wilder version of Evil Ryu complete with the burned hole in his chest. Kage's hair is grown out, his gi is on his torso instead of draped around his waist, and a large rope holds it all together.
On the other end of the spectrum, Kage's Battle Costume is bright, ornate, and regal. Perhaps this is what Kage envisions himself as at the height of his power?
Kage is available for MSRP $5.99/€5.99/£4.99 or 100,000 Fight Money on December 16 along with battle balance changes and new moves for certain characters!
Kage is only the beginning of the next season of Street Fighter V: Arcade Edition! We're doing things differently this year, so we're eager to share the details with you soon! Thank you for all the continued support. We can't wait to show off what's next in 2019!
Make sure to follow Street Fighter on Twitter and Facebook for all the latest updates!
E_Honda_Lucia_and_Poison_Coming_to_Street_Fighter_V_Arcade_Edition_on_August_4th